Report: Houston Rockets to trade Omer Asik, just not sure when
The Houston Rockets are reportedly going to trade Omer Asik away, they just don't know when it will happen.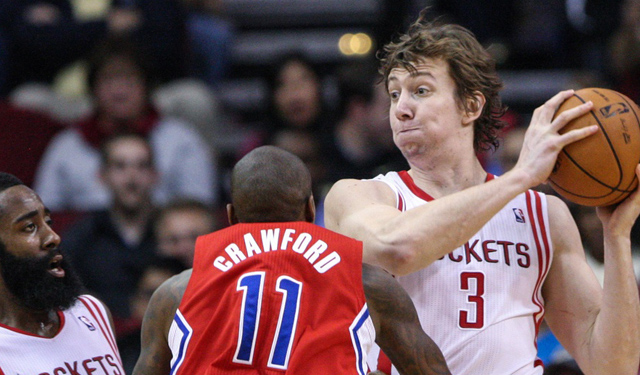 Omer Asik was a nice find for the Houston Rockets in free agency during the 2012 offseason. He was a defensive center that could rebound extremely well and he helped keep together a struggling defense for an exciting Rockets team in 2012-13. But the Rockets soon had a chance to acquire Dwight Howard this past summer and didn't hesitate to woo him to Houston. Almost immediately following the news of the signing, Asik started making waves about being traded to a team where he wouldn't be the backup center.
After a big cut into his minutes early in this season, Asik may have had enough. He's asked to be traded from the Rockets. He also wasn't in the lineup Saturday despite not really having a reason for not being able to play (injury, personal matter, etc.) after his request. According to Marc Stein of ESPN.com, the Rockets are looking to trade him as soon as they can find a deal that works for them.
The Houston Rockets will be trading Omer Asik as quickly as they can find a palatable trade. That much is certain. 

The mystery here, apart from the obvious question about where he ultimately winds up, is what Houston does with Asik until it can locate that appealing deal. 

The center was scratched from Saturday's home game against Denver essentially because he's so unhappy with his new role that he's in no state to play. Word is Asik has been asking the Rockets pretty much once a week, since Dwight Howard's arrival in July, to please trade him elsewhere. And now losing his starting spot, on top of what was already a reduced role, has clearly knocked the 27-year-old back. 

Sources with knowledge of the situation told ESPN.com that Asik was challenged by coaches and teammates this week for not being "engaged" in the wake of the lineup change, which took effect when Asik was moved to the bench for Wednesday's game in Philadelphia. And he hasn't played since the challenge, logging zero minutes Thursday night in New York while in uniform and not even dressing against the Nuggets. 
Asik has started eight of the nine games he's played in this season but has seen his minutes go from 30.0 per game last season to 20.7 per game this season. With this challenge from coaches and teammates to re-engage to the game plan while accepting his role and not seeing that happen, it's probably the right time to start aggressively looking for trade options for Asik. If they wait too long, his trade value could go down and more importantly it could poison the water in Houston.
The Rockets have gotten off to a 7-4 start this season. The team has been a net negative with Asik on the floor this year as a -4.2 points per 100 possessions when he's playing. While the defense has been better with him on the floor (giving up four fewer points per 100 possessions), the offense has been atrocious. They have an offensive rating of 111.6 with him on the bench and that drops to 94.8 when he's on the court.
Even worse, the Asik-Howard pairing the Rockets have tried to make a thing has been a disaster. They have a net rating of -15.8 with these two on the floor together and score just 87.3 points per 100 possessions. As a comparison, the 2011-12 Charlotte Bobcats that had arguably the worst season in NBA history had an offensive rating of 92.3. It's time to move Asik to a team that needs a defensive center and maintain their identity.
Show Comments
Hide Comments
Our Latest Stories
Not the start the super-team was expecting in Kevin Durant's Oracle debut.

The King was on late-June form against the utterly helpless Knicks

The second-best player in the NBA? Seriously?
The champs looked great on opening night

The champs' jewelry makes it clear what happened in the Finals after the Warriors led 3-1

The King loves his Kingdom ... but maybe a little too much.