Report: Isaiah Thomas has interest from Pistons, Heat, Mavs, Suns, Lakers
Isaiah Thomas will have several suitors in restricted free agency.
• 1 min read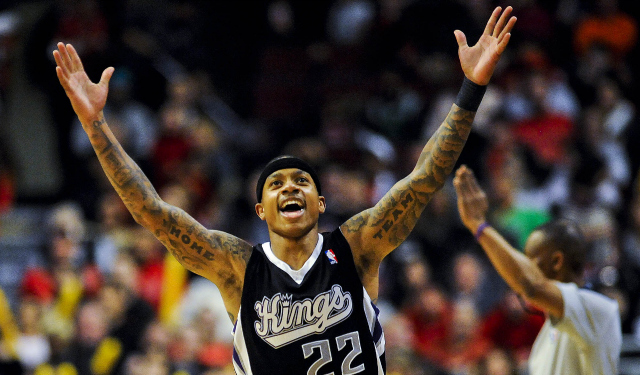 More Offseason Analysis: Coaching changes, news | Free Agency | Draft
Isaiah Thomas' suitors in restricted free agency will include the Detroit Pistons, Miami Heat, Dallas Mavericks, Phoenix Suns and Los Angeles Lakers, according to Aaron Bruski of ProBasketballTalk:
The Pistons, Heat, Lakers, Mavs and Suns have all expressed interest, with the Pistons showing the most interest to date and numbers starting in the three-year, $24 million range. Talks with teams in playoff contention have started in the $6-7 million per-year range.
Thomas is an efficient, score-first point guard who is deadly on the pick-and-roll and is improving as a floor general. He competes defensively, though he is only 5-foot-9, which scares some front offices. He averaged 20.3 points and 6.3 assists per game last season, the best of his career.
The Pistons are an interesting, up-and-coming team, and he would make a lot of sense for new president and head coach Stan Van Gundy. It might mean Brandon Jennings, acquired just last summer, would be put on the trading block, though.
Thomas would be a steal for the Heat, but would likely have to accept much less than fair market value. Thomas was a Lakers fan growing up, and Los Angeles does not yet have its point guard of the future. The Mavs just traded Jose Calderon and Shane Larkin, and would give Thomas a good shot at finally making the playoffs.
The Suns, with Goran Dragic and (probably) Eric Bledsoe and Tyler Ennis already on the roster? I don't get that one. 
Remember, though: the Kings can match any offer. It's unknown at what point they'd be priced out. 
Show Comments
Hide Comments
The commissioner's infamous veto of the Paul trade could have been different

Warriors are intent on keeping a mind like Jerry West around

LaVar has always been proud of his son, which Magic says isn't a problem as long as it doesn't...
Curry was cookin' on the pan and stole the show when she took over the mic

Shaq says LeBron isn't comparable to any one legend, rather a mixture of several greats

Kevin Love says the Cavaliers are on the same level as the Warriors: 'We match up well'