Report: Jason Kidd arrested on DWI charge
New Knicks point guard Jason Kidd was arrested early Sunday morning on an alleged DWI charge.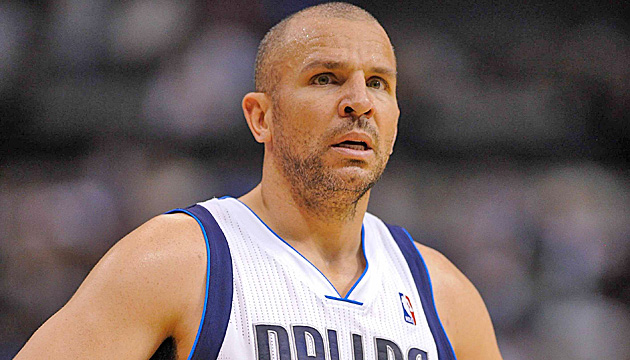 Kidd signed with the Knicks hoping to mentor Jeremy Lin, but now Lin looks like he's headed to Houston. (US Presswire)
New Knicks point guard Jason Kidd was arrested early Sunday morning on an alleged DWI charge. The Southampton Patch was the first to report the news. 
Just days after signing with the New York Knicks, Jason Kidd was arrested Sunday morning on an alleged drunken driving charge after a single-car crash, according to Southampton Town police.

Police said that Kidd's 2010 Cadillac Escalade struck a telephone pole and went into the woods near the intersection of Cobb Road and Little Cobb Road in Water Mill, not far from his Hamptons house. Police responded at 1:56 a.m. Kidd, 39, was alone in the car, according to police. He was transported to Southampton Hospital for minor injuries and released into police custody.

Kidd was arraigned on a misdemeanor DWI charge on Sunday morning in Southampton Town Justice Court and released on his own recognizance.

Sag Harbor attorney Eddie Burke Jr. said he is representing Kidd and was on his way to speak with Kidd late Sunday morning. "We await further discovery from the district attorney's office," Burke said.
Obviously coincidental (I think), this comes hours after the Knicks completed a sign-and-trade for Raymond Felton, which could signal the end of Jeremy Lin's time in New York. And part of the reason Kidd was drawn to the Knicks was to mentor Lin. Doubtful he had the same thing in mind for Felton.
Kidd recently signed a three-year, $9.5 million deal with the Knicks after spending the last few seasons with the Mavericks.
Teams are reportedly trying to bring in the veteran forward in an effort to weaken the War...

LeBron has reportedly already ruled out any chance of joining the Clippers

The Thunder plan to offer the recently named MVP a massive five-year extension worth around...
Paul opted out of the final year of his contract last week

The Jazz are looking at other options in case they don't re-sign George Hill

Need a two-way player to stretch the floor? From J.J. Redick to C.J. Miles and P.J. Tucker,...