Report: Jay-Z trying to divest Nets ownership to become NBA agent
Jay-Z wants to extend his sports management company into the NBA, which means he'll have to sell his share of the Nets.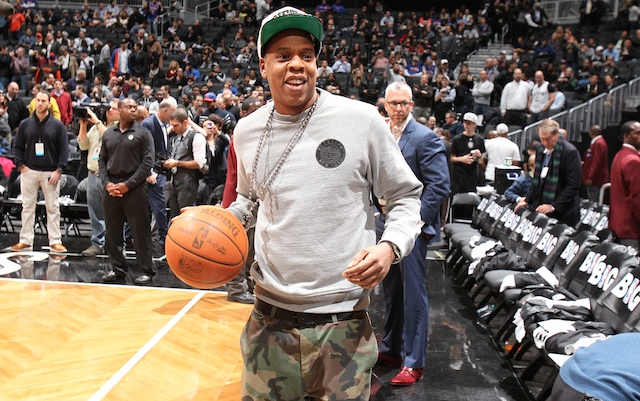 Hova is trying to represent.
According to Yahoo Sports, Jay-Z is attempting to divest his piece of Nets ownership to become an NBA player agent.
Jay-Z recently launched Roc Nation Sports, a co-parnter with CAA, to represent baseball and football players, including Victor Cruz and Robinson Cano. Jay-Z owns less than 1 percent of the Nets, but has become a visible figurehead for the franchise, especially with its move to Brooklyn.
But if he wants his sports management agency to extend into basketball, league rules state he has to sell his minority ownership share.
The process is expected to be completed in time for Roc Nation to compete for players entering the June NBA draft, but there's no guarantee of the timing, sources said. Those within Roc Nation and the CAA alliance aren't "chasing a clock on this," one source said. "This isn't about one draft, but taking the long view of the business."
The question is really what CAA's involvement is here. CAA is one of the biggest agencies in the world, representing the likes of Chris Paul, Carmelo Anthony, Dwyane Wade, Tony Parker and Chris Bosh. Will Jay-Z's Roc Nation Sports inherit those clients, or will he basically serve as a recruiter for future players?
Really though, that was essentially Jay-Z's role with the Nets anyway. He sits courtside and makes the franchise way cooler.
According to the report, Jay-Z will let CAA's player agents handle things like contract negotiations and normal basketball duties, but use his part to build things like global marketing plans and business ventures.
Either way, it has to send a chill down the spine of rival agents. Jay-Z has massive influence and his name and brand will be a draw to players everywhere.
Show Comments
Hide Comments
Kyrie Irving went nuts in Game 4 and capped it off with a nasty highlight

Boston is better on defense without Thomas, but it obviously missed him in the second half...

The Cavs are up 3-1, in part thanks to Irving's astonishing performance.
Maybe the best player of all-time has his best season, and he's not even in the discussion...

Cleveland took a 3-1 lead on Boston and will look to close it out Thursday

Boston had a 16-point lead at one point