Report: Jazz look to gauge Stockton's interest in coaching
Utah will reportedly reach out to NBA legend John Stockton to see if he would consider their vacant coaching position. Good luck with that.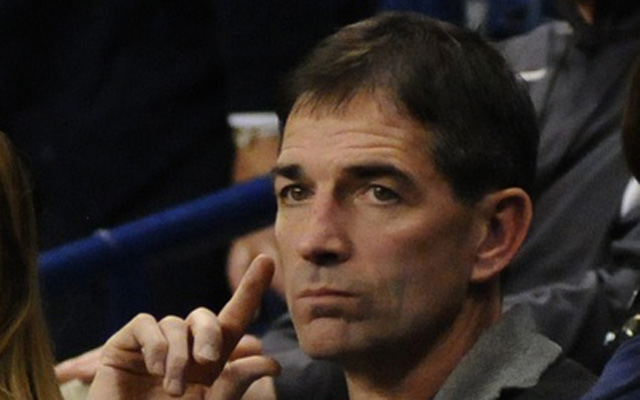 More NBA: Season Awards | Grades: East | Grades: West | Seasons in Review
ESPN reports that the Utah Jazz plan to reach out to former Jazz great John Stockton to gauge his interest in their open coaching position. 
The Utah Jazz, as part of a broad coaching search expected to feature some 20 candidates, plan to sound out Jazz legend John Stockton to see whether he has any interest in the position, according to sources with knowledge of the situation.

Sources told ESPN.com that Jazz officials intend to at least pose the question to the Hall of Fame guard about his willingness to move into coaching, while mindful of Stockton's lack of previous coaching experience and the fact that he has long loathed the sort of spotlight associated with the job.

Jazz general manager Dennis Lindsey declined comment Tuesday night about Stockton or any other prospective candidates when reached by ESPN.com.
via Utah Jazz to sound out John Stockton about coaching opening - ESPN.
Gonna go out on a limb here and say I doubt this happens. Stockton has been pretty much nonexistent in terms of public appearances since retiring. He never enjoyed the spotlight. Meeting with the media twice a day? Constant social enagements? Managing modern player egos? 
Not seeing Stockton go for that. 
And not to make things uncomfortable or anything, but Stockton's 1980's and '90's and 2000's partner in crime (man those guys played a long time together) Karl Malone has been openly campaigning for a spot on the staff in some capacity for years. Malone was recently brought on as a developmental coach. Why is it that Stockton gets a look ... but Malone doesn't? 
Would Stockton teach the players important things? Yes. Could he make a few of them great? Absolutely. But the guy also put up with absolutely nothing in his time in the league. Not sure how that's going to go over in today's NBA. 
Could this have an effect on Carmelo Anthony's future in New York? What about Kristaps Por...

Chicago needs to decide whether to pay Rondo $13.4M next season or buy him out for $3M

Rose played in 64 games for the Knicks before a season-ending knee injury
Durant chose an odd way to shout out his former OKC teammate

Teams are reportedly trying to bring in the veteran forward in an effort to weaken the War...

LeBron has reportedly already ruled out any chance of joining the Clippers