Report: Jazz to acquire Steve Novak from Raptors
Toronto has reportedly agreed to trade forward Steve Novak and a second-round pick to Utah.
• 1 min read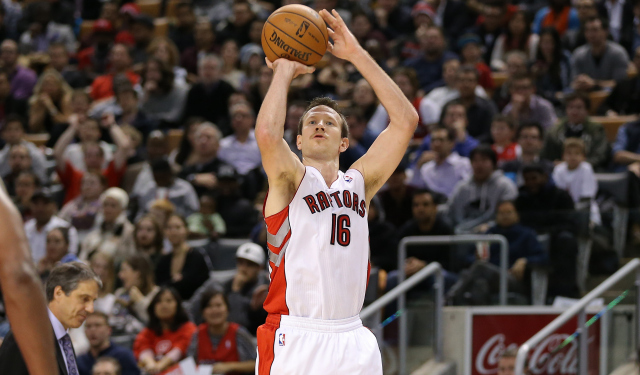 More Offseason Analysis: Coaching changes, news | Free Agency | Draft
The Toronto Raptors have agreed to trade forward Steve Novak and a future second-round pick to the Utah Jazz, according to Adrian Wojnarowski of Yahoo Sports. Utah will send back point guard Diante Garrett, who has an unguaranteed contract for next year and will be waived by the Raptors.
Novak shot 43 percent from the three-point line in his one season in Toronto, but only appeared in 54 regular-season games. His role was significantly reduced after a December trade brought stretch-four Patrick Patterson, among others, to the Raptors.
The move means the Jazz will sign on for the final two years of Novak's contract. He is owed $3.45 million in 2014-2015, and $3.75 million in 2015-2016. He has the ability to help Utah's spacing tremendously, but the team will need to cover for him on defense. The future picks are now piling up for the Jazz, too.
Toronto needed to create roster spots if it wanted to add more pieces this summer, and moving that salary helps, too. The Raptors have agreed to new deals with Kyle Lowry and Patrick Patterson, and an agreement with Greivis Vasquez is reportedly imminent. While Novak is one of the best spot-up shooters on the planet, Toronto pounced at an opportunity to create flexibility.
Show Comments
Hide Comments
The sign, however, says Jordan never flopped -- which is incorrect, as the film shows

Curry's turnover was a key moment in the Warriors' Game 7 loss last season

Curry is having an impressive postseason campaign, averaging 28.6 points per game
They have consistently posed problems for the Golden Boy, but can they keep it up?

Kerr hasn't coached since Game 2 of the first round against the Trail Blazers

Parker was injured during Game 2 of the Spurs' series vs. the Rockets