Report: Jimmy Butler to return for the Bulls on Saturday vs. Rockets
All-Star wing set to return from injury and just in time as Bulls' playoff hopes circle drain.
The Chicago Bulls have been in a tailspin for the past few weeks, and have fallen out of a playoff spot. Fortunately, the cavalry is coming and its name is Jimmy Buckets.
CSN Chicago reports that Jimmy Butler will return to the lineup Saturday vs. the Houston Rockets. Butler has missed the past four weeks due to a knee sprain. Including the Feb. 5 game vs. the Nuggets where Butler was injured, the Bulls have gone 3-9.
Butler provides a huge boost offensively and defensively, and has carried Chicago for much of the season. The problem is that this stretch has shown problems that go well beyond the injury to Butler, or Joakim Noah or even the absences of Derrick Rose and Pau Gasol at times beyond those other injuries. Chicago has to not only get Butler back but find a winning formula with where the team is now and resolve the tension that has popped up in various comments from the players toward rookie coach Fred Hoiberg's approach.
Otherwise, the playoffs are only going to provide a brief delay before summer vacation.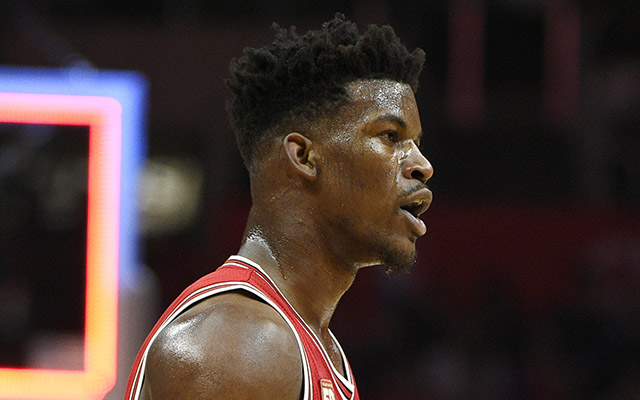 Show Comments
Hide Comments
Our Latest Stories
The movie star imparted what a shark tale celebrity status can be for the young athletes

No big shock, the unanimous MVP plans to stay in the Bay.

Unless he ate a human person whole, there's no way the rookie added that much weight
According to the Seton Hall Sports Poll, LeBron is a better pitchman than Steph

Cleveland's superstar said he was 'surprised' that the Heat were moving on

Public service announcement: 'Points guard' is not a real position