Report: Joakim Noah will get $500K bonus if named All-NBA First Team
Chicago Bulls' center Joakim Noah doesn't care about individual honors but his accountant might. He would reportedly get $500,000 bonus if he's chosen for All-NBA First Team.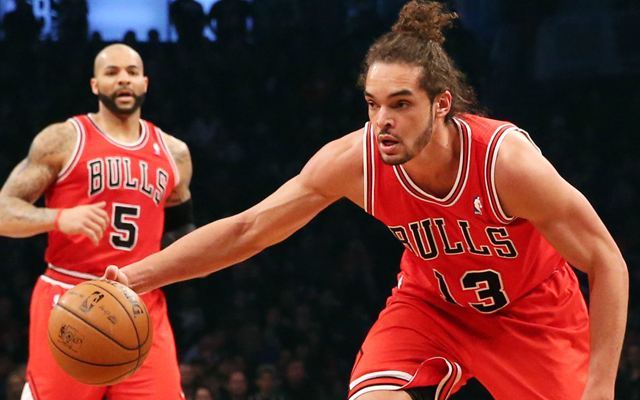 Chicago Bulls' center Joakim Noah has taken the NBA by storm this season. He's been one of the top centers in the NBA for years now, but his inspiring play has lifted a once again battered Chicago Bulls team from playoff uncertainty to a probable home court advantage in the first round. He's in consideration for Defensive Player of the Year and All-NBA First Team, along with some saying he should be top three in MVP voting.
Noah isn't concerned with any of those individual awards at the moment; he's more focused on lifting his team as much as he possibly can. However, his accountant may be interested in Noah getting All-NBA First Team. According to Joe Cowley at the Chicago Sun Times, receiving that honor would reportedly give the Bulls' center a $500,000 bonus.
Joakim Noah doesn't want to get involved with all the hype surrounding his candidacy as a first-team All-NBA performer.

But he might want to start, considering he has a $500,000 bonus check coming his way if he receives that honor at the end of the regular season.
Noah has a great chance of getting named to the First Team. He's been as impactful as any center this season and has had less help than Roy Hibbert in Indiana and Dwight Howard in Houston. When comparing the three centers this season, Howard has the advantage in scoring and rebounding numbers but even his own coach said Noah was the Defensive Player of the Year. Hibbert anchors the best defense in the league but has been inconsistent on offense. Noah has been the best defender and he's averaging nearly five assists per game.
No center has averaged 4.9 assists or higher in the past decade. The last one to do it was Vlade Divac 11 seasons ago and before that, Jeff Ruland was the last to do it in the 1985-86 season. 
Show Comments
Hide Comments
Will Iggy stay in Golden State? Does anyone have any idea what to do with Derrick Rose?

Hoiberg was asked about Isaiah Thomas possibly carrying the ball during Game 5

Celtics point guard does not need anyone to hype up his defense
The Bulls had it, they had it ... and ... it's gone

The Bulls found they were without hot water following their Game 5 loss

Wall finished with 20 points and 14 assists in win over the Hawks