Report: Kings look to trade Jason Thompson
The Kings are looking to move Jason Thompson after acquiring Rudy Gay.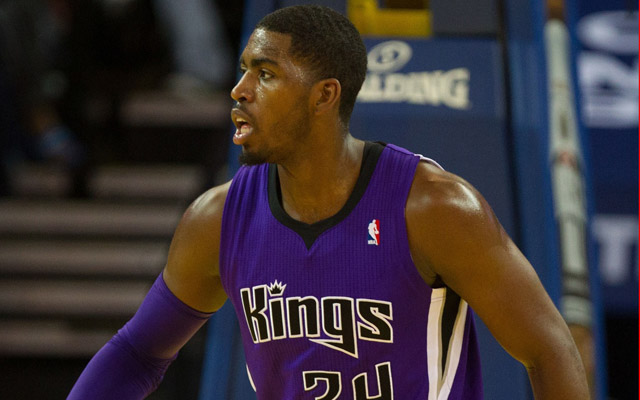 The Kings had a logjam in their backcourt with Isaiah Thomas, Greivous Vasquez, Ben McLemore, Marcus Thornton, and John Salmons. Then they traded Vasquez and Salmons Sunday in the Rudy Gay trade, but after acquiring Derrick Williams earlier this month, now they're looking at a logjam down low. So the Kings have decided to move another power forward on their roster. 
Next up? League sources told ESPN.com that the Kings will be trying to find a new home for forward Jason Thompson, who presumably wouldn't quibble with a fresh start after the arrivals of Gay and Williams to play alongside Cousins.
via Raps, Kings likely not done dealing - Marc Stein Blog - ESPN.
Thompson has nearly $25 million left on the books, and is averaging seven points and six rebounds per game on 47 percent shooting. He still has tremendous value on the trade market, though, with a flexibile contract for a young power forward who can rebound and make shots. He has the skillset you want in a modern power forward. 
The Kings are being remade, and Thompson is a sell-high proposition vs. Rudy Gay which was a buy-low concept. If they do move him, they should be able to get good return on him. 
Show Comments
Hide Comments
Game 1 of the 2017 NBA Finals tips on June 1

LeBron reflects on emulating Michael Jordan growing up, but one thing he couldn't quite co...

'I wear the number because of Mike'
Our experts predict every series in the 2017 NBA playoffs

LeBron. Durant. Curry. Klay. Green. Kyrie. Love. Let's do this.

This matchup for the NBA championship could be the GOAT