Report: Kings' offer for Isaiah Thomas is $3-$4 million below asking price
Diminutive scoring point and Kings far apart in free agency.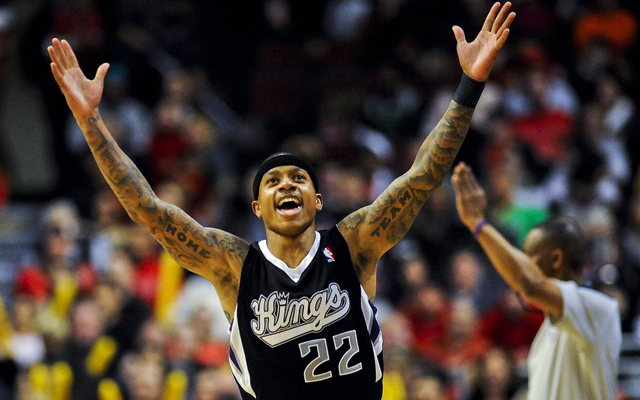 More Offseason Analysis: Updating Free Agency news | Top 40 free agents
The Sacramento Bee reports that the Sacramento Kings are only comfortable with an offer that is substantially lower than what Isaiah Thomas wants in restricted free agency for the diminutive speedster. 
The Kings were willing to offer $5 million to $6 million per year for four seasons –- with the idea of Thomas as a super sub. But they were unwilling to match the $8 million to $9 million he reportedly was seeking and confident he would attract, given the four-year, $32 million contract Avery Bradley agreed to with the Boston Celtics and the three-year, $19.5 million deal Jodie Meeks reached with the Detroit Pistons.
via Ailene Voisin: Collison more pass-oriented, cheaper than Thomas - Ailene Voisin - The Sacramento Bee.
This is the essential divide. The Kings believe that Thomas, at 5-9, is best used as a sparkplug. Thomas, who has been questioned his entire career, looks at the fact he was the Kings' best player over the past three seasons (arguably, alongside DeMarcus Cousins), averaging 20.3 points and 6.3 assists with a 20.5 PER belongs as a starter. 
An essential problem with this argument from the Kings' side is that if you want to look at advanced metrics, you would hope to back up your skepticism of Thomas that the team was worse with him on the floor. 
The opposite was true. 
Thomas was the only player with a positive net rating (points for the team scored vs. allowed per 100 possessions) for the Kings at plus-.2. The Kings were minus-9.7 with him off the floor. That's leaps and bounds the best of any King, per NBA.com. So you can't really make the argument that his physical limitations were an overall negative for the team last year. 
Meanwhile, if the market doesn't develop, you could see Thomas signing an offer sheet the Kings aren't willing to match but that could see Thomas joining a contender. The Lakers, Pistons, Mavericks and Heat have interest in Thomas, according to the Bee.
How this situation is playing out has gone under the radar but it could have a big impact. Thomas is legit. 
Show Comments
Hide Comments
Thunder fans used the term 'cupcake' in reference to Durant after he left OKC in free agen...

There appeared to be some wishful thinking on the part of Charlotte general manager Rich C...

Thompson is one of the best shooters in the league, but it appears dunking isn't his speci...
Cuban was willing to part ways with employees who leaked ahead of the official announcemen...

Draymond wasn't mad about the move, though. He was mad about the way he heard about it

All-Star forward was sent from the Bulls to the Timberwolves on draft night