Report: Kings to hire Tyrone Corbin as assistant coach
Former Utah Jazz head coach Tyrone Corbin is reportedly Mike Malone's next lead assistant.
• 1 min read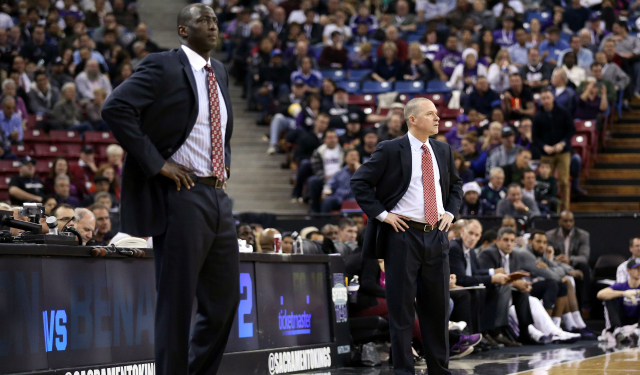 More Offseason Analysis: Coaching changes, news | Free Agency | Draft
Former Utah Jazz head coach Tyrone Corbin is headed to the Sacramento Kings to be Mike Malone's lead assistant, according to Sam Amick of USA Today. Corbin's contract with the Jazz was not renewed at the end of last season after the team went 25-57.
Malone had been quietly planning to add another coach to his staff. His father, Brendan Malone, was supposed to be the lead assistant last year, but he resigned just before the start of the regular season.
Corbin played for the Kings in the 1995-1996 and 1999-2000 seasons. He spent 10 years on Utah's coaching staff, including his tenure as a head coach, which began with Jerry Sloan's resignation in February 2011.
Earlier in the offseason, the Houston Rockets and Golden State Warriors "expressed interest" in Corbin as an assistant, according to Yahoo Sports' Marc Spears.
Jared Sullinger wants back in the NBA; he knows his weight will play an important part

Cleveland is one of Rose's biggest suitors, and the Irving situation could lead to an even...

Five years later and Celtics fans continue to throw shade -- Allen later deleted the comme...
Irving has a desire to team up with Butler dating back to June

Apparently, Irving first asked to be traded in June in hopes of joining Jimmy Butler in Ch...

Despite Melo being a good trade piece for the Knicks on paper, he has his sights set on joining...