Report: Kings trade Jason Terry to Rockets for Alonzo Gee and filler
Kings likely to make cap room with non-guaranteed contracts, Rockets pick up former NBA champion.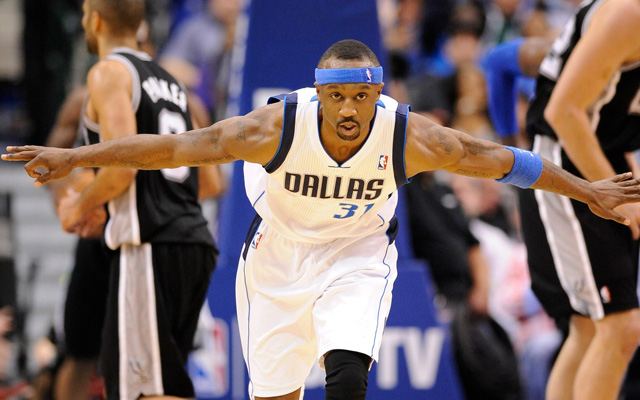 Yahoo Sports reports that the Sacramento Kings are finalizing a trade sending former Dallas Maverick (and Boston Celtics, and for like five weeks a Net) Jason Terry to the Houston Rockets for Alonzo Gee and other non-guaranteed picks which could create more cap room for the Kings. The Kings will also reportedly send two second-round picks to Houston. 
Terry fell off a cliff after the Mavericks 2011 championship season, and the Mavericks let him walk to Boston to join Kevin Garnett and Paul Pierce for what was an ill-fated last run at the title. He was included in the deal Brooklyn made at the 2013 draft for KG and Pierce, and then dealt to Sacramento for Marcus Thornton. He never played a minute for the Kings. 
Terry is on the books for $5.8 million this season as an expiring, so the Rockets are basically sending contracts they could waive and get off the books this year for a veteran who could find a revival in their wide-open three-point oriented system who expires next year. For the Kings, if they waive Gee and whoever else they get in the deal, it gets them further from the luxury tax threshold, and, if they make any dramatic moves later this year with Rudy Gay (in a contract season), Derrick Williams (same) or anyone else, it could help to have less room on the books.
Gee doesn't make a whole lot of sense for the Kings with Rudy Gay and Williams. But he's likely to wind up on a roster if waived. He's a competent backup small forward. 
Can Terry resurrect his career in Houston? They can use the locker room leadership. I wonder if he can turn that leprechaun into a rocket, somehow? 
Hayward will be in Miami this weekend, while Utah and Boston also have meetings scheduled

Sacramento signs Serbian to 3-year, $36 million contract while passing on Ben McLemore

Free agency is around the corner, which means there could be a ton of significant moves coming...
The Knicks still intend to trade Carmelo Anthony even with Phil Jackson gone

Paul George is a college football coach at heart

CP3, the Point God, is headed to Clutch City, and the NBA landscape has again flipped on its...