Report: Kings will pass on Drummond if he falls to No. 5
A report indicates Andre Drummnod will not go to the Kings at No.5 in the draft.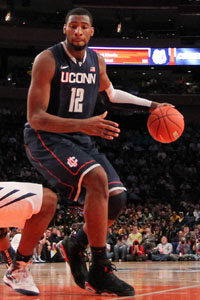 Andre Drummond is a draft lottery mystery.
(US Presswire)
Andre Drummond is a bit of an enigma. You ask around about him, and the questions about his ability and mental effort are substantial. But welcome the world of the
NBA draft
, where if you measure out tall and have any skill whatsoever (or in the case of Hasheem Thabeet, almost none at all), you too can go in the top five of the NBA draft. 
Drummond has all the potential in the world. In the right place with the right coach, he can be a phenomenal player. If his worse instincts get ahold of him... that's not so good. There's a chance he could go as high as No.3. There's a chance he could fall out of the top ten. That's how wide his range is. 
But one place he reportedly won't be going is to Sacramento with the No. 5 pick. From Cowbell Kingdom.com's James Ham:  
FYI: my sources say that Drummond is not the pick at 5 for the Sac Kings. Whoever is left of Beal, Robinson, Harrison and MKG is. FWIW.

— James Ham (@James_Ham) June 13, 2012
That's an interesting development. The Blazers at No. 6 have two picks and are rumored in talks to trade. Would they take Drummond if they keep the pick there? They need a center, but that's a pretty risky proposition. Then it's the Warriors who have Andrew Bogut and will either draft or trade for a small forward by multiple reports. Then it's the Raptors who add Jonas Valanciunas next year, and have Andrea Bargnani. The Pistons are next and coul put him next to Greg Monroe, but that seems like a weird fit. Then the Hornets who already have Okafor, and the Blazers again...
Someone in there will decide to take the gamble on Drummond. He could go higher than No. 5. 
But it's good that the Kings are passing. They have a mercurial big man in
DeMarcus Cousins
. There are bigs available they can pair with him, but they honestly need a small forward a lot more. The Kings work out Daimian Lillard Wednesday, who makes little sense for them with their over-abundance of guards. 
But the Kings have a plan. And it isn't Drummond, apparently.
Griffin and the Clippers are at a crossroads

"He left because he wanted to be with James Harden," the Los Angeles coach said

The Warriors have shown that simply putting talent together isn't enough
Hayward will be in Miami this weekend, while Utah and Boston also have meetings scheduled

Sacramento signs Serbian to 3-year, $36 million contract while passing on Ben McLemore

Free agency is around the corner, which means there could be a ton of significant moves coming...