Report: Knicks agree in principle with Phil Jackson to oversee team
The long-awaited deal is reportedly agreed to, and could change the New York Knicks franchise for years as the man with 11 rings arrives.
More Phil: Kerr to coach?| Berger on talks | Podcast: Good idea for Knicks?
The New York Post reports that the Knicks and Phil Jackson have come to an agreement for Jackson to 'oversee' basketball operations for the Knicks. 
Phil Jackson has reached an agreement in principle to oversee the Knicks basketball operations and "president'' will be in his title, according to a league source.

All that's left is the lawyers finalizing the last contract details by week's end before Jackson officially returns to the organization that drafted him and where he won two titles as a player.

The Post has learned Jackson gave the Knicks a verbal commitment on Saturday. The Garden still will not comment on Jackson's status.

Knicks president/general manager Steve Mills will remain on board in a revised role and work with Jackson. Knicks owner James Dolan hired Mills because of his vast network of contacts with NBA agents and GMs. That isn't the strong suit of Jackson, winner of 11 titles as coach of the Bulls and Lakers.

Some issues during the last couple of days revolved around his living arrangements. Jackson lives in Marina Del Rey, Calif., with his fiancée, Lakers president Jeanie Buss. Jackson is expected to live in New York during the season, but do some commuting. Buss visits New York on business periodically.
via Jackson, Knicks have agreement in principle: source | New York Post.
The news answers several key questions about Jackson's role. He doesn't have to do the day-to-day stuff, which he reportedly wanted to avoid, with Mills around. He doesn't have to spend long winters in New York at his age, and he gets the kind of control over the franchise that drafted him that he wanted. 
From here, the questions become how this will affect Carmelo Anthony and his potential upcoming free agency, where the Knicks will go in free agency with no draft picks and no cap space, and whether Jackson can indeed change the woeful franchise's fortunes simply by "being Phil." Lots more to come on this from CBSSports.com.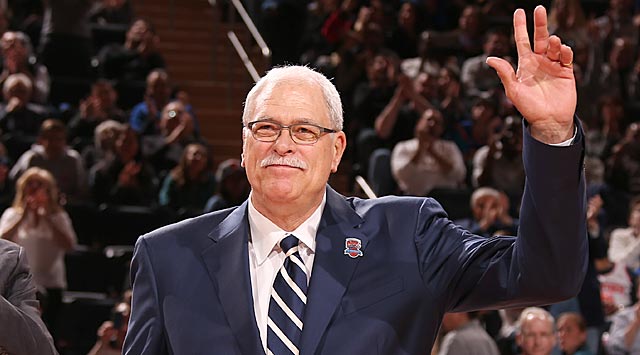 Show Comments
Hide Comments
Kerr's health situation is worse than previously thought

Golden State has a 3-0 lead heading to Portland on Saturday

The playoffs are starting to heat up
Our experts predict every series in the 2017 NBA postseason

Our NBA experts predict the first round of the NBA postseason

The Warriors continue to roll without Durant