Report: Knicks free to ditch orange alternates if they want
The Knicks can get rid of the ugly-as-sin orange alternates if they want.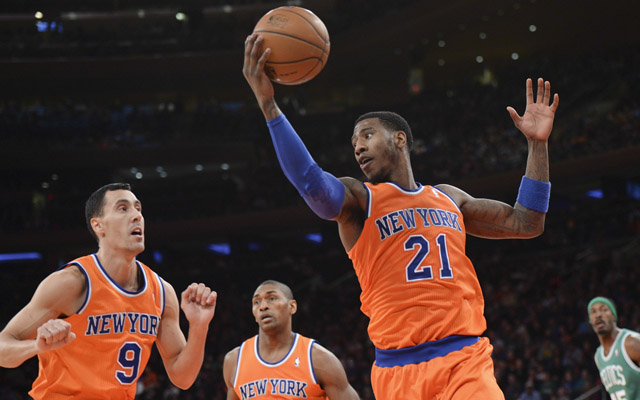 The New York Knicks are 0-6 in their ugly-as-sin bright orange alternate jerseys they unveiled before the season. The New York Post reports that if the Knicks want to, they can jettison the pumpkin duds in the event that they are the reason the team is an abomination toward everything basketball is intended to be. 
If he wishes, the eccentric Dolan can forever shelve those new alternate orange jerseys after the Knicks fell to 0-6 in the uniforms with Sunday's 114-73 disgrace to Boston at the Garden.

According to an NBA official, the Knicks have now fulfilled the minimum requirement for the number of times they have to wear the brand new, all-orange jerseys that appear as haunted as Halloween.

The NBA official told The Post the Knicks can wear the uniforms a maximum of 18 times this season and no fewer than six times under league rules.
via Knicks free to take off bad-luck orange uniforms | New York Post.
I would be fine with this, both because I am superstitious and think there could be a connection between the Knicks sucking and those God-awful uniforms, and because looking at those things make me nauseous ... and that's before I have to watch the Knicks play basketball in them. 
The Knicks switched to their home whites vs. the Magic on Friday ... and won big. On Sunday they went back to the orange against the Celtics and got beaten so badly Jim Dolan's band is now JD and the Crooked Flailing Attempt.
Should the Knicks ditch the orange and go back to the home whites?
HT: PBT
Show Comments
Hide Comments
The Spurs have homecourt advantage, and will host Game 1 Monday night at 9:30 p.m. ET

All-Star guard flew to Washington after Game 6 vs. Bulls to attend his sister's funeral Sa...

Some love for the Rockets over the Spurs, and at least one expert says the Cavs are going...
Ball is expected to be one of the top picks in the NBA Draft later this summer

The Bulls guard fielded questions about his future during exit interviews on Saturday

The two teammates were still up playing at 4 a.m.