Report: Knicks 'like their odds' with Carmelo Anthony
Despite a report that Carmelo Anthony is "leaning toward leaving," the Knicks are reportedly not alarmed.
• 1 min read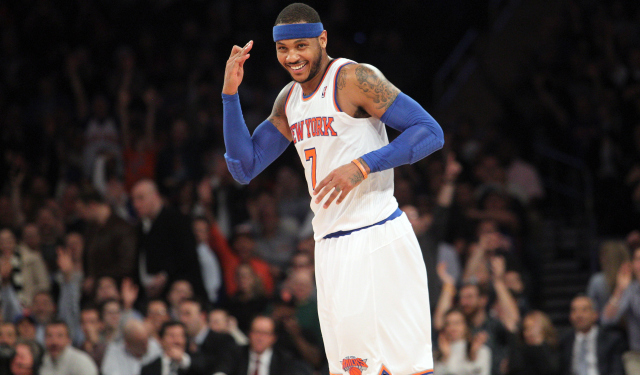 More Offseason Analysis: Coaching changes, news | Free Agency | Draft
Carmelo Anthony and his agent, Leon Rose, met with New York Knicks brass on Friday, and Yahoo Sports' Adrian Wojnarowski reported that he was "leaning toward leaving in pursuit of championship contention," with the Houston Rockets and Chicago Bulls the frontrunners to acquire him. New York president Phil Jackson has publicly said he wanted Anthony to opt in for next season, but Anthony reportedly does not intend to do so. Still, the Knicks somehow "like their odds," according to Marc Berman of the New York Post.
Despite a report Anthony was "leaning'' toward leaving the Knicks because of interest from the Bulls and Rockets, Knicks officials did not seem alarmed, according to NBA sources.

According to a source close to president Phil Jackson, "The meeting went well — [Anthony] will still most likely opt out — but all in all, a good meeting.''

The Knicks were informed about two weeks ago Anthony likely would opt out at the June 23 deadline and become a free agent July 1, despite Jackson's suggestion he wait a year for free agency.

The Knicks are well aware Anthony wants to explore his options, but wonder if the Bulls and Rockets are capable of getting under the salary cap to make a real play.
While it's true that it would be tricky for Chicago and Houston to clear cap space for Anthony, it's far from impossible. If Anthony lets an organization know that it is his preferred destination, then that team can aggressively pursue trades. Recent examples of this happening include the Miami Heat unloading salary to unite LeBron James, Chris Bosh and Dwyane Wade in 2010, and the Golden State Warriors making room for Andre Iguodala last summer.
New York still has one advantage over Anthony's other suitors: it can offer him the most money. Jackson, however, has made it clear he hopes he would take a pay cut.
Show Comments
Hide Comments
The two best point guards in the East go at it in a series sure to be filled with drama.

Breaking down key matchups as the second season reaches the conference semifinal series

The second round of the 2017 NBA Playoffs tips off Sunday at 1 p.m. ET, with Game 1 of Cel...
The Spurs have homecourt advantage, and will host Game 1 Monday night at 9:30 p.m. ET

All-Star guard flew to Washington after Game 6 vs. Bulls to attend his sister's funeral Sa...

Some love for the Rockets over the Spurs, and at least one expert says the Cavs are going...