Report: Knicks' Pablo Prigioni may return to Spanish league for his wife
New York Knicks' guard Pablo Prigioni isn't ready to make a decision, but, for his wife's sake, he may go back to the Spanish League.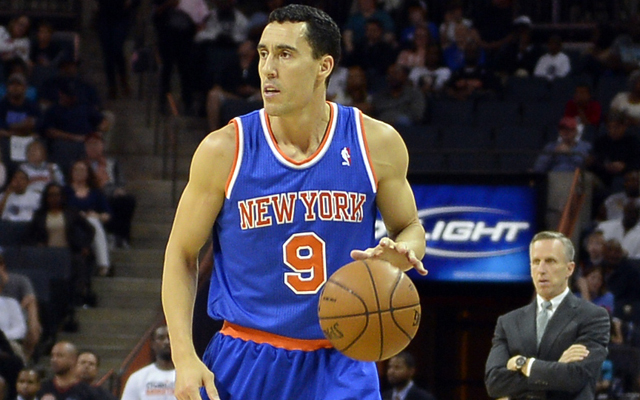 New York Knicks' backup point guard Pablo Prigioni enjoyed a nice rookie season in the NBA at the young age of 35. He was a productive member of the Knicks' second unit and had a great season shooting the ball. He made 45.5 percent of his shots and 39.6 percent of his 3-pointers. During the playoffs, he started 10 of the 11 games he played in and helped the Knicks advance to Game 6 of the second round.
Prigioni isn't sure whether he'll return to the Knicks next season. Marc Berman of the New York Post is reporting that it's possible he'll return to Spain to play professional basketball because his wife wants to be back there. 
Point guard Pablo Prigioni faces a tough decision on whether to stay in the NBA or return to the Spanish League next season, because his wife, Raquel, wants to return overseas, according to a source.

Prigioni on Saturday continued to be noncommittal on whether he wants to return to the Knicks.

"I think it's not the moment to talk about that now,'' Prigioni said after the Game 6 playoff ouster. "It's painful to lose. It's painful to start the vacation now. This is about the team. Now I stay quiet."
The Argentinian point guard started playing in Spain in 1999 and was a fixture of Tau Cerámica Baskonia in the Spanish League from 2003 to 2009 and played for Real Madrid from 2009 to 2011. In the 2011-12 season, he went back to Baskonia to play before finally making his NBA debut in 2012. His wife is from Spain and, according to the article, it has been a tough adjustment for her, and she doesn't speak English fluently.
Prigioni has accomplished so much in his career already and proved that, even in his mid-30s, he can compete at the NBA level and be a meaningful member of a playoff team's rotation. He was the Spanish King's Cup MVP in 2006 and the Spanish Supercup MVP in 2008. He also won a bronze medal with the Argentinian National Team at the 2008 Summer Olympics in Beijing and a gold medal at the 2011 FIBA Americas Championship.
This season, he averaged 3.5 points and 3.0 assists in 16.2 minutes. He increased those averages to 4.5 points and 3.2 assists in 20.9 minutes during the playoffs.
Show Comments
Hide Comments
The two best point guards in the East go at it in a series sure to be filled with drama.

Breaking down key matchups as the second season reaches the conference semifinal series

The second round of the 2017 NBA Playoffs tips off Sunday at 1 p.m. ET, with Game 1 of Cel...
The Spurs have homecourt advantage, and will host Game 1 Monday night at 9:30 p.m. ET

All-Star guard flew to Washington after Game 6 vs. Bulls to attend his sister's funeral Sa...

Some love for the Rockets over the Spurs, and at least one expert says the Cavs are going...