Report: Knicks plan to target Kevin Love as a free agent in two years
New York has designs on the Timberwolves star forward.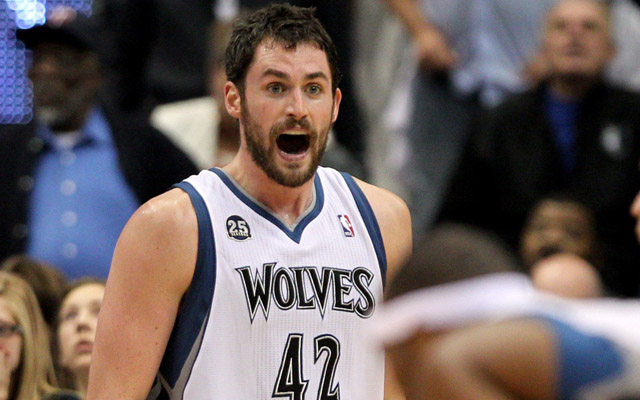 In breaking news Tuesday, Kevin Love will have job offers when he inevitably opts out in the summer of 2015. 
Yahoo Sports reports that the Knicks intend on targeting Love when the Timberwolves forward becomes available, with the hope of pairing him with Carmelo Anthony. You know, because throwing money at big free agents instead of trying to build a winning culture through development and a long-term program has worked so well so far. 
Love has been standoffish with the Wolves overall, mostly on account of the manure pile that now ex-GM David Kahn built around him. Since Rick Adelman came on board, and especially since Flip Saunders was hired to replace Kahn last summer, he's been quiet on that front. The Wolves have the best starting lineup in the league right now in terms of plus/minus, with Love next to Nikola Pekovic and Corey Brewer, and Kevin Martin providing the scoring balance needed with Ricky Rubio's all-passing, no-shooting makeup.
Things are pretty great in Minnesota right now. They've done what they've been tasked with doing, building a playoff team around Love. If they stay healthy, they'll be there. 
But these things are never just about winning, no matter what players say. They want to be wooed, they want to play somewhere cool (as opposed to cold) and they want to maximize their earning potential. The current media sphere means that players can be wildly successful in small markets like Oklahoma City, but it doesn't mean they can't make more money in somewhere like New York.
Show Comments
Hide Comments
Celtics reverse course in Chicago; Pacers head home

Our NBA experts predict the first round of the postseason

Can the Clippers close the series without Blake Griffin?
The playoffs are starting to heat up

The Cavs are the first team to move on to the next round

Our experts predict every series in the 2017 NBA postseason