Report: Kobe Bryant wins court order to block memorabilia auction
TMZ reports that Kobe Bryant believes his mother took his Teen Choice Award without permission.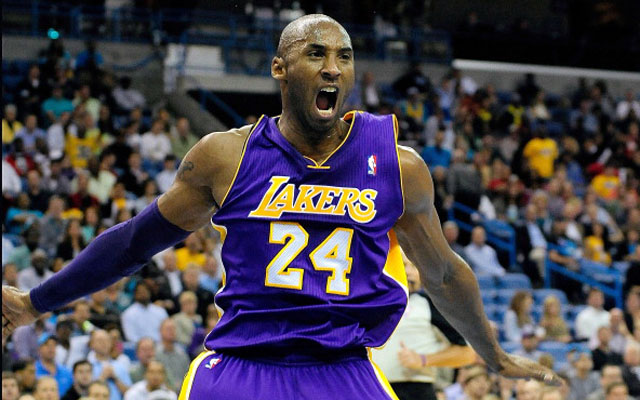 The case of Kobe Bryant v. Kobe Bryant's mom continues. 
Last month, Bryant issued a cease and desist order to an auction house hired by his mother to auction basketball memorabilia allegedly belonging to the Lakers superstar. TMZ reported this week that a judge for the case has issued a temporary block to prevent Goldin Auctions LLC from selling the items. 
The LA Times obtained the response from Bryant to the initial lawsuit filed by the auction house in their attempt to hold a sale. In his response, Bryant alleges that at least one piece of the memorabilia in question was taken from his house without his permission. From the LA Times: 
Items up for bid included two championship rings Bryant gave his parents after the Lakers won the 2000 title, a signed basketball from that team, his 1996 Pennsylvania high school championship ring and sweat suits he wore at Lower Merion High. There were also high school jerseys with the numbers 24 and 33, numerous trophies and an award from the 1999 Teen Choice Awards in the shape of a surfboard.

The Teen Choice Awards item was specifically mentioned by Bryant in Wednesday's filing.

"It was last seen by me in my personal residence," he wrote. "I do not know how my mother or Goldin obtained possession of this award but it was without my permission."
via Kobe Bryant says mom not told she could sell basketball memorabilia - latimes.com.
Court documents show Goldin expects to sell the items for at least $1 million. The auction house already has advanced $450,000 to Pamela Bryant.
Bryant continues to rehabilitate from surgery after he tore his Achilles in April. The Lakers were eliminated in the first round in a four-game sweep by the San Antonio Spurs. 
Timberwolves expected to be playoff bound; Lakers, Pelicans not so much

Three-point specialist will reportedly draw offers from Philadelphia and Brooklyn

John Wall and Isaiah Thomas were among the most vocal about their displeasure of the award...
Newest Brooklyn Net isn't concerned with his old organization's leader

The diminutive All-Star was among the league's worst defenders during the 2016-17 season

We've seen huge favorites before, but this is something else