Report: Kobe's refusal to step aside key factor in Howard's departure
Dwight Howard and Kobe Bryant clashed over the future of the Lakers before Howard decided to leave for Houston.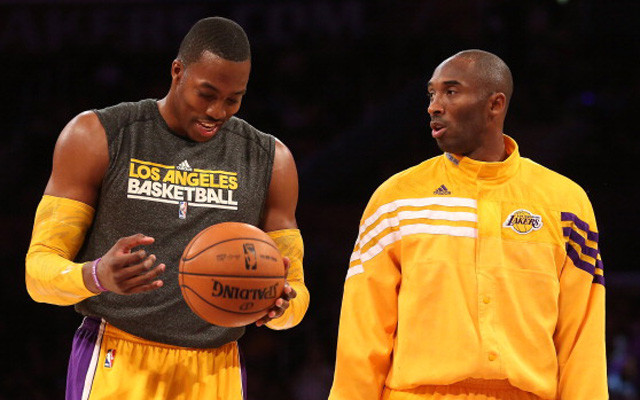 The easy scapegoat for Dwight Howard's decision to leave the Los Angeles Lakers, beyond Howard himself, is coach Mike D'Antoni. D'Antoni took the wrath of the world over last season's disaster, despite taking over a team in disrepair while still on pain medicine following his knee surgery, and still managed to get them to play pretty well. 
But he was criticized for playing Pau Gasol too far away from the basket (because what you really want is to put a guy with toughness issues and a serious injury bug in the low post). And he was largely identified as the root of the Lakers' problems on both sides of the ball. (There's really no way to get around the Lakers' defensive issues being attributable to D'Antoni's notoriously lazy approach to coaching it.)
Howard openly said after his meeting with the Lakers in free agency that he had expressed a desire for Phil Jackson to coach the team. Multiple reports have indicated Howard's resentment at being forced to play in the pick-and-roll vs. in the post. This, despite the fact that Howard is, by any measure available, much better in the pick-and-roll than in the post, and that D'Antoni brought numbers to the meeting to show Howard actually had more touches there. 
So it was D'Antoni who forced Howard out, right? Well, no. On the heels of the report about how Kobe Bryant talked down to Howard in the meeting, saying he needed to "learn" from Bryant about how to win, word comes from ESPN that a big concern for Howard was Bryant's indication he planned to play for several more seasons and never give the team to his center: 
Sources told ESPN.com that Howard and his representatives -- in a handful of meetings with Lakers officials before he became a free agent July 1 -- strongly suggested the center would have a difficult time re-signing with the team if Bryant stayed with the franchise beyond the 2013-14 season, the final year of his contract.

The Lakers, almost from the moment Howard arrived in August 2012, had gone to great lengths to assure the 27-year-old that they saw him as the future face of the franchise and that the torch would be passed from Bryant to him in short order.

But with Bryant saying publicly just a week before free agency that he was thinking of playing at least two or three more seasons, it was hard for Howard to envision when he would assume that role, sources said.

"How can it be Kobe's team and Dwight's team?" one source said. "It was about the passing of the torch."

As an offshoot of those discussions, sources said, Howard's camp at one point asked the Lakers whether they were at least considering releasing Bryant through the league's amnesty provision, since Bryant's return date from Achilles tendon surgery remained in question.
Let me throw out a bold idea here: There's no bad guy in this situation. It's easy to leap there because, essentially, it's made to seem that Howard wanted the team to ditch the franchise icon who won five titles after demanding to be drafted there. You don't get more "Laker for life" than Kobe Bryant. 
But if Bryant played three more seasons, Howard would be 30 when Bryant walked away, and having already hit his prime. Essentially, Howard would be carrying the Lakers as his body started to decline, and at that point would have to start looking at someone to pass the team to. It would never really be his. This is the biggest decision of his professional career, and he's focused on being "the guy" for a franchise and all that comes with it. Can you really blame him for wanting the best chance to reach that? 
And you can't blame Bryant, either. It's his career. He gets to decide when, and how, it ends. It's up to him when he walks away, and the Lakers have made it clear that despite being a franchise that always puts the brand before the stars, Bryant is an exception. He chooses when. Bryant was never going to really hand over the reins, never going to defer, never going to cede the power he brokered when it came down to him or Shaquille O'Neal in 2004. 
He's going to do things his way because he's Kobe Bryant, and there's no room in his universe for compromise. 
So Howard left to go to a place where he was given the keys to the car, and Bryant stays in LA, driving down the road to the adoration of millions. Really, everyone wins here. Kobe Bryant and Dwight Howard can say all they want that all they care about is winning and that they'll do anything for championships, but their actions reveal something different. They'll do anything to win ... as long as it's on their terms. 
Show Comments
Hide Comments
All-Star forward was sent from the Bulls to the Timberwolves on draft night

It's not so much who Boston took, but who it didn't take

Former Bulls star was venting after being traded to the Timberwolves
Phoenix Suns' top pick was a bit off the mark with ceremonial first pitch at Diamondbacks...

Lakers traded Russell to the Nets along with Timofey Mozgov in exchange for Brook Lopez and...

The Lakers introduced their latest high draft pick Friday afternoon