Report: Lakers, Cavs Pau Gasol-Andrew Bynum talks stalled
A deal isn't dead between Los Angeles and Cleveland, but it's also not going anywhere at the moment.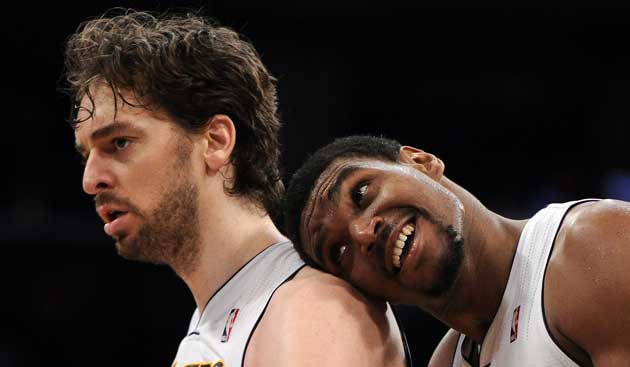 ESPN reports that talks between the Lakers and Cleveland Cavaliers for a deal to end Pau Gasol to the Cavs in a trade-and-waive salary clearance move for Andrew Bynum have hit a standstill.
The deal is not dead but it is no longer progressing. The Cavs, who have until Jan. 7 to trade Bynum before his contract becomes guaranteed and loses its instant value in a trade, are now actively seeking other options.

The major issue, sources said, involves the Lakers' desire to get an additional asset from the Cavs beyond Bynum's team-friendly contract, which could save the Lakers more than $20 million in salary and luxury taxes. The Lakers are interested in also getting a young prospect or first-round draft pick as part of the deal. The Cavs have been reluctant to part with either.

To satisfy NBA trade rules, the Cavs would have to add at least one more player to any trade involving Gasol for Bynum. Gasol is in the last year of a contract that pays him $19.3 million. Bynum's contract is for $12.25 million but is only half guaranteed before next week, which is why the Lakers are interested. By trading for and then waiving Bynum, the Lakers could take themselves below the luxury-tax threshold for the first time in seven years.
via Pau Gasol-Andrew Bynum trade talks between Los Angeles Lakers, Cleveland Cavaliers stall - ESPN.
The two teams held discussions this week in a move that Ken Berger of CBSSports.com describes as harmful both in the short term and long-term for the Lakers: 
Do I think the Lakers will do this? It would require a fundamental shift in their competitive and financial DNA. Not to mention the fact that skipping a season in the tax wouldn't by itself spare them repeater rates in 2015-16 -- the second year of Bryant's extension. The repeater rates are in effect for any team that pays the tax in four out of five seasons starting with the 2011-12 season -- meaning if the Lakers really are scared of the big bad wolf, they would have to take two years off from paying tax over a five-year period. If that were the case, why'd they sign Bryant to a two-year, $48.5 million extension in the first place?

Also, there's this: If the Lakers stand pat, they'll have an $11.3 million tax bill this season -- about a third of last year's bill. That's pocket change to the Buss family. And forgetting about the repeater tax for a moment, if they ride it out with Gasol, they'll be free and clear of his contract next season. For the trouble of saving the Lakers a few bucks this season, however, the Cavs undoubtedly would ask a steep price in terms of LA taking back future money. If they simply keep Gasol and hope for the best, the Lakers at least know they'll have no future obligation related to him -- both in terms of his own contract and as far as any salary they'd have to take back in a trade.

In other words, in some ways trading Gasol would only make the Lakers' problems worse -- both in the short term and the long term.
via Dumping Gasol for Bynum would represent seismic shift for Lakers - CBSSports.com.
There's a lot of resistance to this idea around the league both in executive and media circles. In part, that's because many are uncomfortable with the idea of the Lakers having to play by the same cost-cutting rules as the have-nots of the league. That makes a lot of columnists uncomfortable. 
But this was the goal of the new CBA. (Well, the public goal. The actual goal was just for the owners to make more money, and mission accomplished, I might add.) It was supposed to level the playing field in favor of parity. 
Meanwhile, the hiccup appears to be based around the fact that usually, the Lakers get the better end of such a deal by a wide margin. They have a history of lopsided trades that favor them, and seem to plan on trying to get a similar package for Gasol. At the same time, the Cavaliers' front office is notorious for demanding the moon for whatver rocks they're selling. You've got two franchises that notoriously drive aggressively hard bargains. That makes the odds of a deal low, despite the fact that both sides are trying to deal assets that have lost most of their value. Bynum is a salary dump and Gasol is a shell of himself. 
Apparently, Irving first asked to be traded in June in hopes of joining Jimmy Butler in Ch...

Despite Melo being a good trade piece for the Knicks on paper, he has his sights set on joining...

Kyrie is reportedly open to leaving Cleveland, and New York is among his top choices to be...
It appears Wall will be staying in Washington for a long time

Apparently James wasn't aware that Kyrie was considering a change of scenery

The Knicks reportedly have interest in the Cavs star, but do not want to give up their uni...