Report: Lakers, Celtics talked Rondo swap
A report from the L.A. Times links the Celtics and Lakers in failed talks involving a trade of Rajon Rondo for Pau Gasol.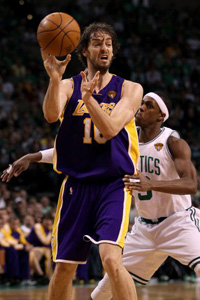 An L.A. Times report links Pau Gasol and Rajon Rondo in trade talks.
(Getty Images)
The past two weeks, Celtics' management came out hot and heavy saying that Rajon Rondo was not being actively shopped, that they loved Rondo and wanted him to be a Celtic for a long time. The
Globe
, the
Herald
,
WEEI
, the works. 
So, naturally, word broke Monday from the
Los Angeles Times
that the Celtics and Lakers had discussed a trade of Rondo to L.A.:
The teams talked last week about a trade for Celtics guard Rajon Rondo, though nothing was close to accomplished and discussions dried up.

The Lakers are unwilling to trade Pau Gasol for Rondo, making a deal with Boston unlikely before the trade deadline Thursday.

"Unless they give up Gasol, they're not going to get a top-level point guard," said a person familiar with the situation but not authorized to discuss it publicly.
via Celtics' Rajon Rondo is subject of trade talks - latimes.com.

The undercurrent to the "we're not trading Rondo" talk has been an unspoken part that says "for anything less than a blue-chipper." Gasol certainly fits that bill. But for the Lakers, their price on Gasol is as high as the Celtics' for Rondo, but higher. From all indications the Lakers think that the 31-year-old finesse center is worth his weight in gold. They have resisted multiple offers for the former All-Star and by all accounts seem ready to let the trade deadline pass without a significant change to their roster.

For Boston, it seems baffling that they'd consider trading the best player on their team, a player who can drop jaw-dropping triple-doubles, has elite vision and handle, and has been a major part of Boston's ability to remain in contention with the downward spiral of the Big 3 for Gasol. But he continues to pop up in talks. Boston will never confirm the talks, but if they did, they'd say L.A. started it. L.A. would never confirm it, but if they did, they'd say Boston started it. That's how these things work.

But maybe best of all for L.A. is this report must make Gasol feel better. They won't trade him for a young All-Star point guard. Maybe now he can get his head right and stop worrying about it. Either way he'll feel better at 3 p.m. EST Thursday (give or take 30 minutes), assuming, you know, he's not a Bobcat or something. 
Despite Melo being a good trade piece for the Knicks on paper, he has his sights set on joining...

Kyrie is reportedly open to leaving Cleveland, and New York is among his top choices to be...

It appears Wall will be staying in Washington for a long time
Apparently James wasn't aware that Kyrie was considering a change of scenery

The Knicks reportedly have interest in the Cavs star, but do not want to give up their uni...

The Knicks, Spurs, Timberwolves and Heat are reportedly his preferred teams