Report: Lakers close to adding Jermaine O'Neal
The Lakers are reportedly close to signing both Antawn Jamison and Jermaine O'Neal.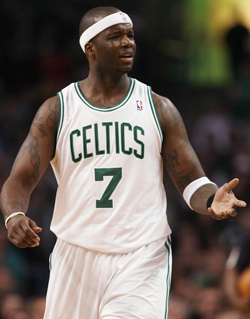 Jermaine O'Neal will not return to the Celtics this season and may retire. (Getty Images)
On Monday, we posted on L.A.'s pursuit of Antawn Jamison nearing completion, bringing the veteran forward to Lakers team stacking up for a run. On Tuesday, Yahoo Sports reported that the Lakers are also close signing veteran, and we mean veteran, Jeremaine O'Neal. 
O'Neal played in just 25 games last season for Boston, and just 24 the year before as injuries have pushed him to the edge of retirement. It was thought by many that last season would be the last ride for the former All-Star. O'Neal himself said during the lockout that last season would be the end. Apparently he's changed his mind. 
O'Neal had season-ending wrist surgery in March. It's not known if he can add anything at all. But for a team desperate for reserve big men, he may not be a bad fit. Even if he can't give the Lakers anything, that's roughly the same as Troy Murphy last season. Yahoo also reports that Jordan Hill is still in talks with the Lakers after a promising season with L.A. last year after being traded in the Derek Fisher deal. 
O'Neal would sign for the veteran's minimum. 
Show Comments
Hide Comments
James has said he doesn't feel he has anything left to prove

How they match up with what each team does well, and poorly, headed into the big battle for...

LaVar Ball will be happy with this futuristic mix of his son in Lakers gear
LeBron had some high praise for his coach

The King had some high praise for Warriors' "new" addition

LeBron and the Cavs are looking for their second straight title