Report: Lakers to keep Steve Nash through next year
Former MVP has struggled with injuries the past two seasons but the Lakers intend to keep him for the final year of his deal.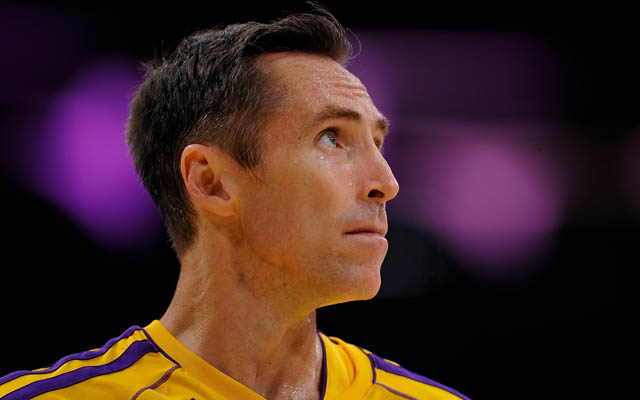 More NBA: Power Rankings | Expert Picks | Latest news, notes
The question with the Lakers as it pertains to often-injured point guard Steve Nash is whether to bite bullet on his $9.7 million salary for next year in the last year of his contract or use the stretch provision afforded in the CBA to waive him (spreading his money out over multiple seasons but removing him from the cap). 
The Los Angeles Times reports the Lakers will keep the former MVP on roste this year, clearing cap space for 2015 and 2016 when better free agents will be available. 
Nash sat out another game, which is no longer surprising for a player who appeared in only 12 this season.

For financial reasons, the Lakers currently plan to keep him next season, The Times has learned, eating the remainder of his contract $9.7 million in one swoop instead of waiving him and spreading the money out over three years.

It would give them more money to spend in the summers of 2015 and 2016, when they figure to be active players in the free-agent market amid such possible names as Kevin Love, LeBron James and Kevin Durant.
via Lakers beat Suns, 115-99, but what's ahead is the real story - latimes.com.
Nash has been unable to stay on the court since leaving Phoenix and its renowkn training staff in 2012 (though his personal trainer has still been working with him). He suffered a leg fracture in early 2012 of the Lakers' doomed season, and then subsequently developed significant nerve issues related to his degenerative back condition. 
Nash has documented his struggle in a video series at Grantland. He's expressed doubts as to whether he'll be able to continue his career past his season. 
Shaquille O'Neal certainly knows how to bring attention to himself

Warriors, who are not leaning on taxpayers for the arena, plan to pay back the fee after 30...

In a documentary short, Redick explains part of the reason he left the Clippers for the 76...
The Cavs are reportedly nearing a deal with Rose, but the Lakers will try to persuade him to...

The former NBA All-Star launched a successful second career overseas

Tom Thibodeau confirmed locking up Wiggins is the next step for Minnesota after a busy sum...