Report: Lakers will pursue Gasol trade if play doesn't improve
With constant complaints about his role under Mike D'Antoni and a year struggling at both ends of the floor, LA may have to trade Pau Gasol. But for what?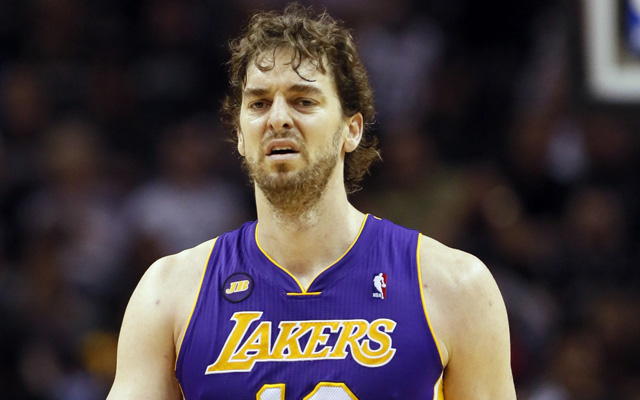 With Pau Gasol and Mike D'Antoni feuding once again over Gasol's "role" in the offense (read: Gasol's terrible performance no matter what role he's been in this season), the Lakers are having to face a scenario they're not thrilled with, ESPN reports. They may have to trade Gasol. 
The Los Angeles Lakers prefer to keep struggling center Pau Gasol and believe he eventually will have success in coach Mike D'Antoni's system, but his recent comments and subpar play have caused them to begin weighing whether to make him available before the NBA's annual trade deadline in February, according to sources with knowledge of the situation.

The Lakers have yet to engage in any Gasol-related trade discussions with other teams, sources told ESPN.com. But Gasol's recent comments about his frustrations with his role in the Lakers' offense, his impending free agency, and his struggles offensively and particularly defensively have essentially forced the team to consider its options.
via Los Angeles Lakers want Pau Gasol but considering trade after comments, poor play - ESPN Los Angeles.
Gasol once again pointed to the idea he's not getting the ball close enough to the basket earlier this week, something we debunked yesterday. On Friday, Gasol had a better game scoring 14 points on 6-of-10 shooting. But as he's still struggling considerably for the year and this makes over a year of him complaining publicly, 
The trick with this situation is that the Lakers want to move Gasol for a player that helps them immediately with prolonging Kobe Bryant's championship window without compromising the cap room they have available this summer and next to add a marquee player. That's going to be a trick. There are players that can make an immediate impact, but they come with hefty salary obligation. 
The Chicago Bulls were mentioned by ESPN on a podcast Friday as potential suitors with Carlos Boozer and Luol Deng involved in a package. That set would improve the team immediately and give them a team that can at least make a run to the second round of the playoffs. But it comes with Boozer's money for next season on the books at $16.8 million, even if they let Deng walk as a free agent. It's basically a stop gap until the summer of 2015 when Kevin Love is likely to be available. 
Trying to get good return on Gasol at this point is going to be difficult, even more so for a franchise that always believes it's players are so far beyond market value that they have to win every trade convincingly. The Lakers almost never deal players at discount. Finding a taker for Gasol's big contract, even expiring, is going to be a hard path. Odds are he remains with the team past the deadline, unless the situation simply becomes to toxic to consider tenable. 
Show Comments
Hide Comments
Tampering is apparently nothing

Boston completely shut down Chicago on Friday, setting up an exciting matchup with Washing...

The Celtics and Wizards are moving on
The Spurs and Raptors are the latest to move on from the opening round

This was a career playoff high for the point guard

It seems like they have a type