Report: Larry Sanders expected to enter rehab this summer
Bucks center thought to be "untradeable" due to off-court issues.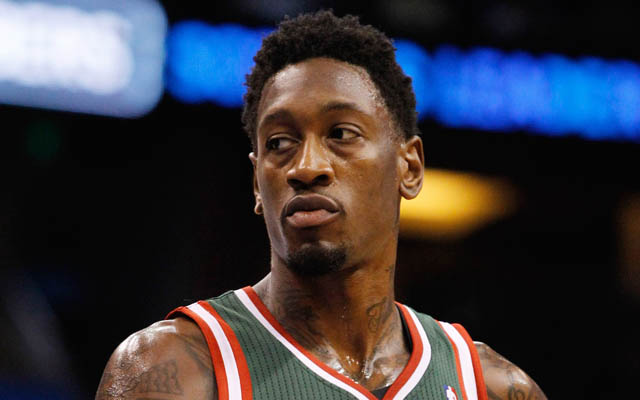 More Offseason Analysis: Coaching changes, news | Free Agency | Draft | Rumors
Bucks center Larry Sanders was a breakout star two years ago. He became a dominant defender, was shown to be an intelligent, thoughtful guy, and looked like a franchise center for the Bucks. Milwaukee rewarded him with a four-year, $44 million extension, despite the fact that he had locker room altercations with teammates. 
Then last year, everything fell apart. He broke his thumb in a bar fight. His year was ended after a face injury. And then he was suspended five games for violation of the league's anti-drug policy. 
Now comes word from the Journal Times that Sanders is "expected" to enter rehab this summer. And for the Bucks, he has become "untradeable."
Contrary to a report, the market for Sanders is virtually non-existent as he not only has been plagued by off-court issues — he is expected to enter a rehab facility this summer — but will be entering the first of a four-year, $44 million contract next season.
via BUCKS BEAT: McGary to work out with Bucks : Basketball.
Now, Sanders is a young guy still. There's plenty of time for him to turn his life around. But he has to get into an environment where his worse instincts can be mitigated. Dallas would be one such place, and they're looking for a center who fits Sanders' description exactly. But he and Ellis have clashed, and Ellis is thought to be a big part of their future. Would that work? 
But the bigger key here is getting Sanders the help he needs. He's a young man who seems to have fallen into his worst habits, succumbed to his lesser demons. The NBA has long strugged with how to provide adequate help for players going through what Sanders is. Maybe there is no way, and it just comes down to personal decisions. But hopefully someone can reach Sanders and get his career on track. He's a talented player, but he's also a human being who appears to be spiralling out of control. 
HT: HoopsRumors.com
Wall says the Wiz are one player away and PG could fill that void in Washington

A look at who your favorite team can possibly acquire this summer in free agency

Unfortunately, Antoine Walker was not involved
The newly minted league MVP said he wanted to enjoy his big moment

Westbrook became the second player ever to average a triple double for an entire season.

Jeff Van Gundy is stepping back into coaching