Report: League executives favor rule changes to restrict offseason conditioning, training
Could the league insert mandates to restrict and control player workouts in the offseason? The answer is difficult and complicated.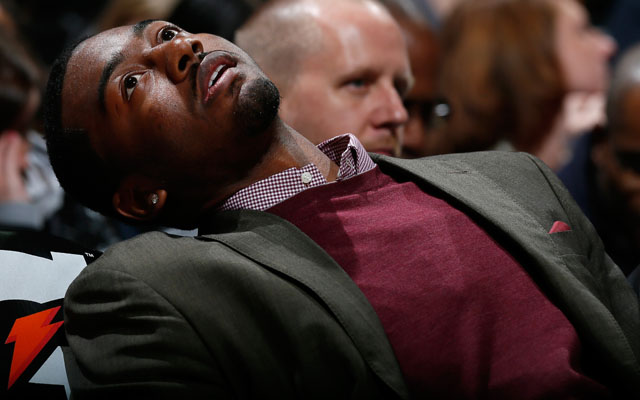 It's hard to believe the reaction to injuries like John Wall's.
(Getty Images)
SI.com reports that there's a growing feeling among league executives that players are doing too much offseason work, and doing it in conjunction with non-team-approved trainers and doctors, which could be leading to an increase in the injuries we've seen this season. SI.com cites an anonymous (of course) executive who thinks that new rules should be implemented to go as far as punishing a player for violating team workout regimens.
"You would love to see the team who pays the player have, if not complete control, at least consensual agreement over who the player works with,'' the team executive said. "Let the team have some oversight of that, so that the team can say, 'No, we don't want you dealing with this person.' Somehow we need to have it written into the contract so that if something happens and it's not under team supervision, then it's going to be an issue.''

In other words, if something were to go wrong for the player while he trained outside the team's supervision, then the team could have the right to penalize the player financially.
via Injuries to John Wall, Andrew Bynum prompt NBA rule change discussion - NBA - Ian Thomsen - SI.com.
There's a world of trouble with this. 
First off, how are you honestly going to enforce it? A player would have to be injured for you to know, and even then, they'd have to cop to it for you to be able to prove it. Second, the NBPA is going to go nuts over this idea. 
You're talking about restricting the ability for players to essentially direct the development of their game on their own. Team trainers aren't going to help a player work on an area that the team doesn't wish him to work on. So if that player and his agent believe that he'll make more money in free agency with a better mid-range game, and the team doesn't believe he can develop that, they're not going to invest time and money to work on it. If he develops it, great. But they want that player working on the things they need him to do. 
And that's not going to be OK for the NBPA. 
Throw in the fact that you're essentially limiting a player's choice of medical care, and there's going to be problems. 
This is messy, but it's nothing new. I doubt that this ever comes to fruition. It's too fraught with complications for the league to want to test. Besides, the league only really gets moved when the entertainment or money is compromised. 
Show Comments
Hide Comments
The Bulls great doesn't think Jordan/LeBron comparisons are fair because their roles are so...

The lawsuit stems from McGee's time in Dallas

Hammond had served as Bucks GM since 2008
Brown has played crucial minutes for Boston guarding LeBron James in the Eastern Conference...

The Cavs have had a much tougher time in the two games the Celtics have been without Isaiah...

Jackson left Duke after one season and signed with an agent, forfeiting his option to return...