Report: LeBron James' Cavs expected to visit Heat on Christmas
LeBron James' return to Miami is reportedly the unofficial choice to be Christmas Day's marquee matchup.
• 1 min read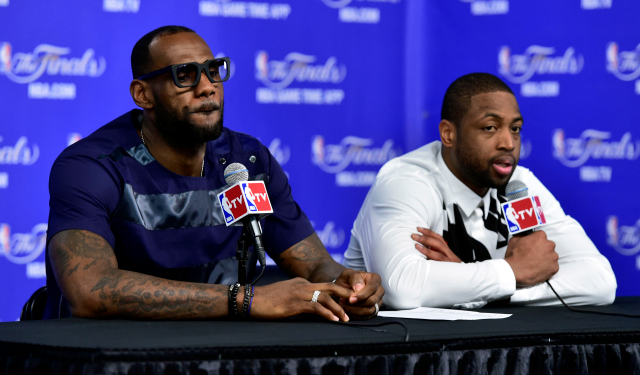 Offseason: Free Agency | Latest from Ken Berger | Rumors
LeBron James is expected to make his return to South Beach on Christmas Day, as the Cleveland Cavaliers have been tentatively scheduled to play against the Miami Heat as a part of the NBA's biggest in-season showcase, according to Barry Jackson of the Miami Herald.
Though the NBA's schedule will not be finalized and released until mid-August, an unofficial internal schedule of select games has Cleveland playing the Heat in Miami on Christmas on ABC, according to a person familiar with the situation.

The game likely would be played at either 2:30 or 5 p.m. that day, depending on what other game is selected for ABC that day.

ABC wants Heat-Cavaliers that day and the NBA is sensitive to ABC's wishes. James returned to the Cavaliers this offseason after spending four seasons with the Heat.
Cleveland and Miami will meet three or four times during the year, and it'd be smart to save their first matchup for Christmas. The only other logical main event would be Cavs vs. Spurs, but rumor has it that will take place on opening night.
Regardless of the date, there will be plenty of storylines leading up to the matchup between James and his former team, Dwyane Wade and his new favorite opponent. It'll be interesting to see where the two teams are in the standings at that point, how much the young Cavs grow next to James and how Wade and Bosh are producing without the best player in the world on their side.
There will also be questions. Miami was classy in how it handled James leaving, but would the franchise play a video tribute for him? How many fans would welcome him back, how many will boo him for leaving? James won't love it if he's on the road on Christmas yet again, but this just makes too much sense for the NBA.
Shaquille O'Neal certainly knows how to bring attention to himself

Warriors, who are not leaning on taxpayers for the arena, plan to pay back the fee after 30...

In a documentary short, Redick explains part of the reason he left the Clippers for the 76...
The Cavs are reportedly nearing a deal with Rose, but the Lakers will try to persuade him to...

The former NBA All-Star launched a successful second career overseas

Tom Thibodeau confirmed locking up Wiggins is the next step for Minnesota after a busy sum...