Report: LeBron James unhappy over Arison's light spending last year
Heat star reportedly "bitter' about how owner didn't break open the bank to bring in more talent last season.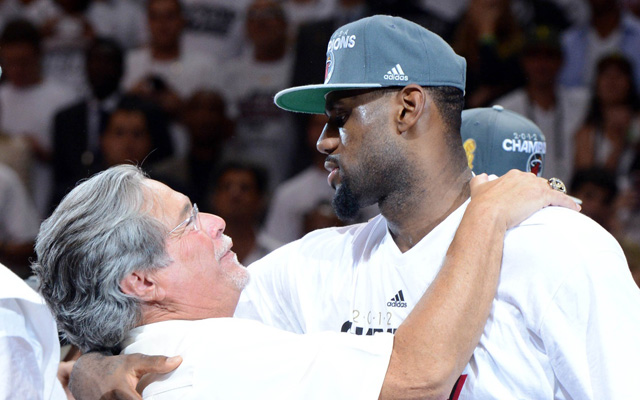 More Offseason Analysis: Coaching changes, news | Free Agency | Draft | Rumors
ESPN reports that as LeBron James gets set to examine his future in free agency, with the decision to opt out weighing with a deadline of June 30, he has a hiccup when considering a return to the Heat.
The report indicates James is unhappy with how owner Micky Arison elected to not break the bank open to help keep the contender stocked last year. 
The Heat are the favorites; this is not in question. But there is a window of doubt due to the way the season ended, Wade's health and some bitterness James harbors that Micky Arison put the brakes on spending over the past year.
via NBA: How LeBron James will figure out his future - ESPN.
The Heat added no one of significant value last summer. Greg Oden and Michael Beasley were mostly inactive throughout the playoffs, and the Heat elected to waive Mike Miller using the amnesty provision. Miller went on to play 82 games for the Grizzlies, the only Memphis player to do so. 
This comes after a similar report that the Heat Big 3 were unwilling to commit to a pay cut just to save Arison the tax bill. That information being linked leads one to think that came up at some point in a conversation. So now you've got two points of at least potential disagreement between Arison and James. 
Now, let's not go all crazy, rumor mill here. This doesn't mean that James and Arison are "feuding," there's not "bad blood." You want to talk bad blood? Dan Gilbert literally penned a letter torching James and still Cleveland is on the possible destinations list. Not like James is a remarkably vengeful individual. 
But as we track what's happening leading up to whenever it is in the next 20 or so days when James makes his decision on where to play next year and beyond, these stories matter. There's lots of evidence that James intends to return to Miami. 
There's at least some that he's open to not. 
Show Comments
Hide Comments
The future Hall of Famer opened up about his post-NBA life

Boston's star guard addressed the media for the first time since his sister's death

What does a first-round sweep mean for PG13's future in Indiana?
Celtics reverse course in Chicago; Pacers head home

Our NBA experts predict the first round of the postseason

Can the Clippers close the series without Blake Griffin?