Report: Lionel Hollins to interview for Lakers' coaching job
The Los Angeles Lakers will reportedly interview Lionel Hollins for the open coaching position.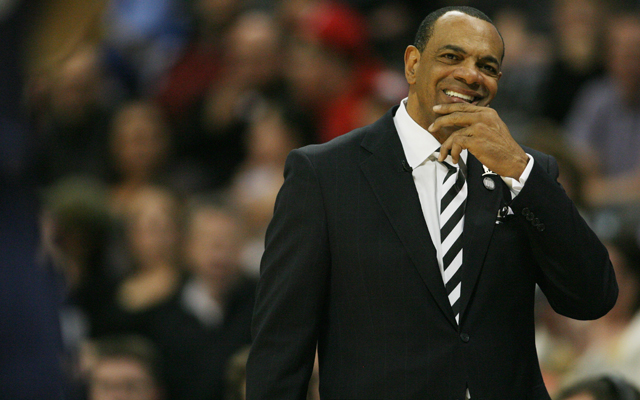 More postseason coverage: Playoff schedule, results | Latest news, notes
The Los Angeles Lakers have interviewed Mike Dunleavy and Byron Scott recently, but there hasn't been much talk of the organization going after a coach who doesn't have ties to the franchise. As the Lakers keep looking for the bridge from the end of the Kobe Bryant era with the team to whatever their next successful endeavor brings, they are trying to find a coach who can help reinstall some success into a team that won just 27 games this past season.
They may finally be looking outside of organizational ties. Adrian Wojnarowski of Yahoo Sports is reporting former Grizzlies' coach Lionel Hollins has emerged as a candidate for the coaching position. Hollins is expected to interview with Lakers' management later this week.
Lionel Hollins has emerged as a candidate for the Los Angeles Lakers' coaching job, league sources told Yahoo Sports.

Lakers management plans to interview Hollins later this week, league sources said.

After meeting with two candidates with Lakers ties – Mike Dunleavy and Byron Scott – Hollins is an intriguing inclusion in the process. He's the first candidate who doesn't have a history with the organization, but, of the three, he has the most recent track record of success in the league.
Hollins last coached a Grizzlies team that set the best record in franchise history. The 2012-13 Grizzlies won 56 games under the coaching from Hollins and made the Western Conference finals before losing to the Spurs. Shortly after their successful season, Hollins and the Grizzlies parted ways. It was presumed they had different philosophies in terms of the direction of the team. 
The Lakers and Mike D'Antoni parted ways after the 2013-14 season produced the worst season in the Lakers' era in Los Angeles. 
Show Comments
Hide Comments
The Celtics and Bulls meet in Boston for a pivotal Game 5

Here is how to watch the Celtics-Bulls series

The Bulls point guard's thumb is still broken, with significant swelling
This has not been a good playoff run for reporters

Utah's veterans are helping Gordon Hayward and Rudy Gobert win when it matters

Houston advances, and San Antonio is set up to follow suit after its Game 5 win