Report: Magic Johnson wants to buy the Clippers
In the wake of alleged racist comments from Donald Sterling, Magic Johnson wants to buy the team.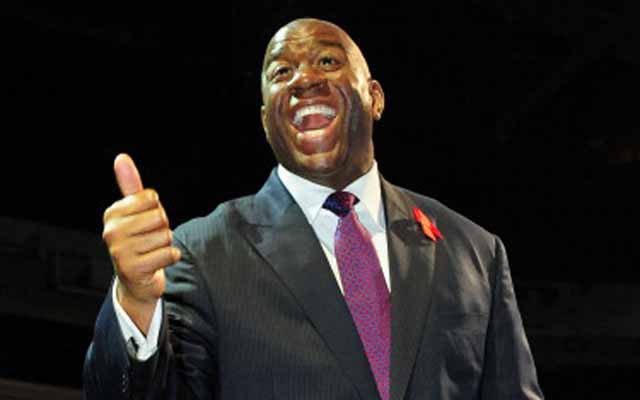 More on Sterling: KJ meets with Silver | Latest Sterling news
Yahoo Sports reports that former Laker and Hall-of-Famer Magic Johnson is interested in purchasing the Los Angeles Clippers from Donald Sterling in the wake of the alleged racist comments from Sterling that broke into a firestorm of scandal this weekend. 
Magic Johnson and his billionaire backers, the Guggenheim Partners, want a chance to purchase the Los Angeles Clippers, league sources told Yahoo Sports. "Magic's absolutely interested," one source closely connected to Johnson's business interests told Yahoo Sports on Sunday night.

To bail themselves out of the NBA's worst crisis of credibility since the Tim Donaghy officiating scandal, the easy part for the NBA will be enlisting the eagerness and financial muscle of Magic Johnson and Mark Walter of the Guggenheim Partners – owners of the Los Angeles Dodgers.

Make no mistake: Magic's Dodgers group is angling for a Southern California sports empire. Magic Johnson and Guggenheim had been aggressive in pursuing a purchase of the Los Angeles Lakers – only to have the Buss family make clear to them the franchise isn't for sale, sources told Yahoo Sports.

"This is 100 percent Magic's plan," a league official intimately involved in the buying and selling of franchises told Yahoo Sports.
via Exit strategy for NBA, Donald Sterling: Sell Clippers to Magic Johnson - Yahoo Sports.
Johnson and his backers bought the Dodgers in March 2012 for a reported $2 billion. If this were to go through, it woud indeed make for a smooth transition and allow the NBA to sweep Sterling's tenure, which they have tolerated until this most recent fiasco, under the rug. Johnson is beloved as a national figure and in the basketball world, is well known in California, and has tremendous business acumen. 
But the NBA has no authority to force the sale of the team, as of yet, and the process of extracting it in order to initiate a sale to Johnson could take some time. This is a viable solution to the overarching problem that Sterling's ownership presents to the league but not an immedate salve to the burning condition Sterling's alleged comments have caused on the league's PR. 
Unfortunately, Antoine Walker was not involved

The newly minted league MVP said he wanted to enjoy his big moment

Westbrook became the second player ever to average a triple double for an entire season.
Jeff Van Gundy is stepping back into coaching

When it comes to naming MVPs, particularly in basketball, we can't seem to figure out what...

Russell Westbrook finally receives validation