Report: Manu Ginobili out for FIBA World Cup with stress fracture
Spurs guard should be ready to go to start next season but will miss two months after exam finds stress fracture in his right leg.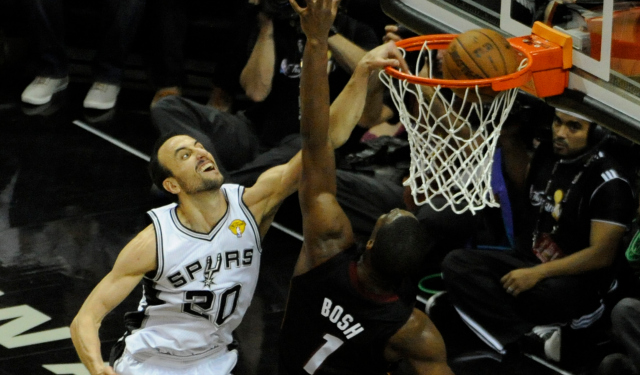 More Offseason Analysis: Updating Free Agency news | Top 40 free agents
Yahoo Sports reports that Spurs forward Manu Ginobili will miss two months, including the FIBA World Cup for Argentina, with a stress fracture in his leg. 
Ginobili, 36, was diagnosed with the early stages of a stress fracture in his exit physical with the Spurs. It's an injury that appears to have developed late in San Antonio's championship season, sources told Yahoo Sports.

Ginobili is seeking a second medical opinion before proceeding, sources said.

The recovery and rehabilitation process for the injury are expected to be two months, and Ginobili should be fully functional for the start of training camp in late September, a source told Yahoo.
via Sources: Manu Ginobili has stress fracture in right leg - Yahoo Sports.
It's a crushing blow for Argentina, as this may have been Ginobili's last appearance with the national team. Two months won't impact Ginobili's season next year, and in fact, the time off from basketball could help his body recuperate from two long seasons in a row. Either way, even if he wasn't ready, it's not like Popovich will avoid resting Ginobili anyway. He could miss the first half of the season, just to take naps. 
But it's unfortunate for Argentina, and there's always a concern about players at that age suffering a stress fracture. 
Teams are reportedly trying to bring in the veteran forward in an effort to weaken the War...

LeBron has reportedly already ruled out any chance of joining the Clippers

The Thunder plan to offer the recently named MVP a massive five-year extension worth around...
Paul opted out of the final year of his contract last week

The Jazz are looking at other options in case they don't re-sign George Hill

Need a two-way player to stretch the floor? From J.J. Redick to C.J. Miles and P.J. Tucker,...