Report: Mark Cuban, Lamar Odom had 'halftime exchange' before deactivation
Dallas Mavericks owner Mark Cuban and forward Lamar Odom reportedly exchanged words during halftime of a recent game prior to Odom's deactivation by the team.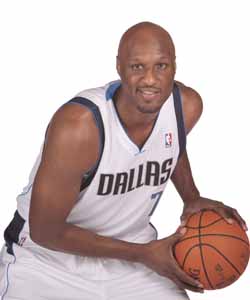 Lamar Odom reportedly got into an exchange with Mark Cuban.
(Getty Images)
You knew the airing of dirty laundry was coming. It was only a matter of when, not if.
On Monday, the Dallas Mavericks
took the unusual step
of sending forward Lamar Odom packing for the season. Odom said in a statement that player and team had "mutually agreed" that he should "step away from the team" for the remainder of the 2011-2012 season, despite the fact that Dallas is in the middle of a playoff chase. Odom has been deactivated rather than outright waived.
On Tuesday,
ESPNDallas.com reported
that Mavericks owner Mark Cuban and Odom got into a back-and-forth during halftime of a Saturday loss to the Memphis Grizzlies.
At halftime of his final game with the Dallas Mavericks Saturday night, Lamar Odom had an angry exchange with Mavericks owner Mark Cuban in the visitors' locker room in Memphis, according to sources familiar with the discussion. Sources told ESPNDallas.com that the heated words were "the culmination" of an exasperating weekend that convinced team officials to initiate discussions on Easter Sunday that led to the parties agreeing to part ways for the rest of the season.

According to sources, the crux of the heated halftime confrontation was Cuban asking Odom if he was "in or out." Sources said Odom, who had played only four minutes in the first half, reacted angrily to the question and did not take his seat on the bench until after the third quarter began.
Odom, 32, has had the worst year of his professional career, by far, averaging 6.6 points and 4.2 rebounds in just 20.5 minutes per game for the Mavericks, who acquired him via trade from the Los Angeles Lakers in December. 
Does the news of an argument as a precipitating event for Dallas' decision to send Odom packing change the narrative here? Not really. Cuban has reportedly taken a number of steps to engage and inspire Odom, to no avail. At some point, everyone could safely assume, that motivational approach would involve calling out Odom directly for his obvious lack of commitment in an appeal to his competitive spirit and professionalism.
Cuban has made it crystal clear over the years that he is the boss. If he didn't get the answer he wanted to hear, he surely had the next steps already formulated.
Show Comments
Hide Comments
Isaiah Thomas would rather have Celtics improve the roster than get a contract extension

How about giving credit to the teams for working hard enough to make it this far

Brown served two stints as Cavs coach and led them to an NBA Finals
Boston's star point guard is coming off an All-NBA season and his trade value may never be...

The Cavs GM is hoping there are plenty of doubters

Is LeBron James, Steph Curry or Kevin Durant most important to who comes home with the tit...