Report: Masai Ujiri's top priority for Raptors is trading Andrea Bargnani
New Raptors GM Masai Ujiri reportedly thinks trading Andrea Bargnani is his top priority as he takes over Toronto's future.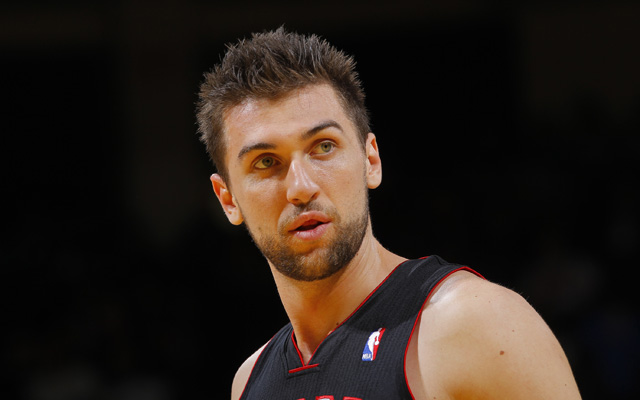 Masai Ujiri took over as general manager of the Toronto Raptors Friday afternoon with a massive to-do list. The roster is the worst combination you can have in the NBA: mediocre and expensive, and he's got big contracts he has to move in order to improve the team. And apparently, one of those contracts is his top priority, according to ESPN: 
First order of biz for new Raps GM Masai Ujiri: Word is he'll shop Andrea Bargnani everywhere he can in hopes of moving him before July 1

— Marc Stein (@ESPNSteinLine) June 1, 2013
Former head of basketball operations (and Ujiri's former boss before Ujiri took the job in Denver) Bryan Colangelo has been trying to move Andrea Bargnani for months, even publicly admitting it. The problem is the massive contract Colangelo gave Bargnani a few years ago, with $22 million dollars left over two seasons on the deal. 
That's going to be difficult for Ujiri to move, even as savvy of a trade artist as he is. The big problem honestly may be that NBA front offices have been getting progressively smarter. More inventive, savvy managers with an understanding of the CBA have been hired, making it more and more difficult to move bad deals. 
But if Ujiri's willing to take an absolute bath on the deal, which he may be, since Colangelo always treated Bargnani as his pet player and wanted good return, Ujiri may be able to offload him. It's not about getting good return at this point for Toronto. It's about just moving him off the books and having the franchise move forward. 
Now about Landry Fields ($12.5 million over two years) and Rudy Gay ($37 million over two years) ...
Show Comments
Hide Comments
The Pacers president was there to deliver Indiana's bid for the 2021 All-Star Game

Is Paul George in a Laker uniform just a formality at this point?

Kerr may miss the entire playoffs due to complications from back surgery
The excitement was just too much to handle, apparently

Westbrook noticed something the players all had in common

The reserve guard has missed the last 11 games for the Clippers