Report: Mason Plumlee 'likely' to make Team USA over Cousins
Mason Plumlee, who just finished his first season, might represent his country this summer.
• 2 min read
Offseason: Free Agency | Latest from Ken Berger | Rumors
Brooklyn Nets big man Mason Plumlee is "likely" to make Team USA's roster this summer over Sacramento Kings center DeMarcus Cousins, according to ESPN's Brian Windhorst.
I know this sounds insane, so, some background: Plumlee averaged 7.4 points and 4.4 rebounds per game for the Nets as a rookie role player, shooting a fantastic 66 percent from the floor in 18 minutes per game. Named to USA Basketball's select team, he ended up being promoted to the senior team because it had 19 players and five bigs at training camp. He made the numbers work.
Cousins is a superior player to Plumlee by any measure. He also is likely to use up possessions and was called immature by USA Basketball chairman Jerry Colangelo two years ago. It's unknown whether or he would be trusted on the international stage. Plumlee, on the other hand, played for national team head coach Mike Krzyzewski at Duke. He'd be willing to hustle and do the little things without demanding minutes or touches, both of which are scarce with a group like this. 
Colangelo told NBA.com's John Schuhmann that it was possible Plumlee "could earn himself a spot" on the team that will go to Spain for the FIBA World Cup. Schuhmann noted that Cousins might not have allayed USA Basketball's fears about him:
DeMarcus Cousins is a beast, but ultimately, the staff has to be able to trust him, both in regard to dealing with officials and in making decisions with the ball. During a scrimmage on Tuesday, Cousins punched a wall pad out of frustration as the ball went the other way in transition. It was something that would go mostly unnoticed in an NBA game, but that stuff registers with the staff. He has great skills, but USA bigs don't need to play one-on-one.
Team USA has important decisions to make, as Anthony Davis is the only big man who seems like a lock to make the roster. Kevin Love, Blake Griffin and LaMarcus Aldridge all pulled out, though Colangelo said it's not out of the question that Love could re-enter the mix. Kenneth Faried can offer the same energy-guy qualities as Plumlee, plus a much more developed game. Andre Drummond also wouldn't demand the ball in the post all the time, and he can protect the rim. Paul Millsap offers a polished offensive skill set and floor spacing. Plumlee is nowhere near as good as any of these guys, but it might not be about that.
Colangelo has said he plans to cut the roster down from 20 to 15 after this week in Las Vegas. It'll be interesting to see which of the frontcourt players will be sent home. If it's Cousins, who Sports Illustrated's Ben Golliver described as "a cut above the rest of the bigs in camp, aside from Davis," then you have to wonder about his future with the national program.
Plumlee and Cousins will play on opposing teams in Friday's intrasquad scrimmage in Las Vegas, which will air at 9 p.m. ET on ESPN.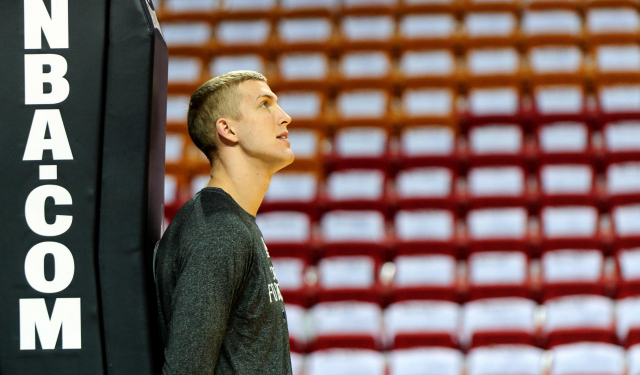 Show Comments
Hide Comments
The playoffs are getting interesting

The Cavs and Warriors have both swept their first-round opponents

Our NBA experts predict the first round of the playoffs
Our experts predict every series in the 2017 NBA playoffs

Golden State swept the series, 4-0

Looking to complete the sweep, the Warriors came out on fire against the Blazers