Report: Mavericks close to re-signing Jason Kidd
Reports indicate Jason Kidd will return to Dallas on a multi-year deal.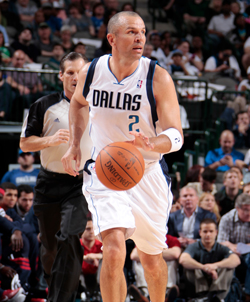 Jason Kidd heads back to Dallas. (Getty Images)
Well, hey, at least they got the guy they wanted... in 2008. 
ESPN Dallas reports that after missing out on Deron Williams and then backup-plan Steve Nash, the Mavericks are close to re-signing Jason Kidd on a three-year, $9 million deal. 
(Kazoo sounds.)
Kidd took his first major fall off the age cliff last season, and wasn't the same player at either end. He was more of a defensive liability after helping shut down the Heat in the 2011 Finals. Kidd struggled running the offense and posted career lows in points and assists per 36 minutes, shooting just 36 percent from the field. 
Kidd can operate as a fine backup, but he's no longer a starter-caliber point guard in the league, as brutal as that is. It's a stacked position and the Mavericks need to be sure this isn't a major contract to keep their flexibility open. 
Dallas couldn't afford to miss out completely on the Williams-Nash-Jeremy Lin- Kidd quadfecta and so they return the guy that was a major piece for them. But this won't help them recover from missing out on those other players, and won't do as much for them on the floor. This is a big name story with little on-court impact. 
The Mavericks are still in trouble. 
Show Comments
Hide Comments
Club reportedly wants to keep stars, but doing so promises more of confusion and falling s...

Warriors star talks to CBS Sports about how he gets his mind right

Vince Carter, Norman Powell and Nene have also shined on the big stage
A fantastic series will pit two of the best players in the league against one another, aga...

What does this mean for the future of Paul George?

Father's dream of his own billion-dollar brand prevents his son from landing a deal with the...