Report: Memphis Grizzlies agree to sign Jerryd Bayless
The Memphis Grizzlies have reportedly agreed to unrestricted free agent guard Jerryd Bayless.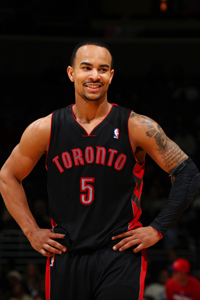 Jerryd Bayless is reportedly heading to the Grizzlies.
(Getty Images)
He's struggled to establish himself as an NBA point guard, but perhaps that doesn't matter any more.
Unrestricted free agent guard Jerryd Bayless has agreed to sign with the Memphis Grizzlies, according to ESPN.com. 
The NBA's 10-day free agency moratorium is now over and Bayless is free to sign the deal at any time.
The Toronto Raptors renounced their qualifying offer to Bayless last week, making him an unrestricted free agent.
Bayless, 23, has already bounced around the league during the four seasons since he was a lottery pick in the 2008 NBA Draft.
He was originally selected by the Indiana Pacers but was traded on the night of the 2008 Draft to the Portland Trail Blazers, where he spent his first two seasons, before being moved to the New Orleans Hornets and then on to the Raptors. An intense, explosive guard with good quickness and the ability to get to the free throw line, Bayless has struggled to demonstrate that he can run a team.
In Memphis, the starting point guard position is well filled by Mike Conley. The Grizzlies also have a solid starting two guard in Tony Allen. Bayless, then, plugs in as an off-the-bench, burst scorer combo guard role which just might be best suited to his strengths. He can help fill a role left by the expected departure of O.J. Mayo, who was allowed to become an unrestricted free agent.
Bayless posted averages of 11.4 points and 3.8 assists for the Raptors last season.
Show Comments
Hide Comments
The reserve guard has missed the last 11 games for the Clippers

Sounds like the Knicks need to figure out what's going on with their star forward

The future Hall of Famer opened up about his post-NBA life
Boston's star guard addressed the media for the first time since his sister's death

What does a first-round sweep mean for PG13's future in Indiana?

Celtics reverse course in Chicago; Pacers head home