Report: Mike D'Antoni still has support of Lakers management
The Lakers spent some time discussing the future of the franchise, including where things stand with Mike D'Antoni after a historically bad week.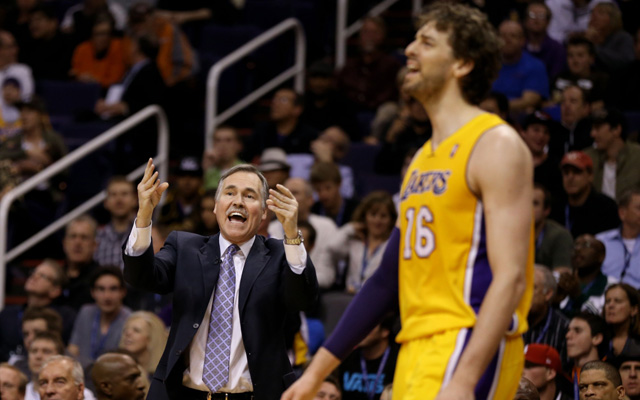 More NBA: Power Rankings | Expert Picks | Latest news, notes
The Lakers have been enduring what really can only be characterized as the worst stretch in franchise history the past week.
With a historic 48-point loss to the Clippers, followed up by allowing 134 points in an eight-point loss to the Nuggets, combined with having the worst record in the West, it's led to the team evaluating things, including Mike D'Antoni as the head coach. 
But according to ESPN.com, D'Antoni continues to have the support Laker management.
After a series of discussions following a stretch of historically bad losses this week, the Los Angeles Lakers do not believe an in-season coaching change will help the team and remain inclined to support Mike D'Antoni over the final 19 games of the season, sources with knowledge of the situation told ESPN.com.
The Lakers are now 21-42, and are headed for one of the worst seasons in franchise history. After the embarrassment to the Clippers, D'Antoni met with general manager Mitch Kupchak and owner Jim Buss to discuss the state of the team, according to reports. However, D'Antoni brushed that meeting off as nothing out of the ordinary. 
"We just went over stuff and said, 'Well, we didn't play very well,'" D'Antoni said, via ESPN LA. "I don't remember, to be honest with you ... It wasn't anything out of the ordinary other than just talking about different performances, and that's about it."
According to the report, the meeting was more focused on what can be done to help the team improve in the present, and not about a potential coaching change.
What the Lakers have endured, a good bit of it hasn't exactly been their fault. Injuries to Kobe Bryant, Steve Nash and others have derailed what could have been at least a mediocre, competitive season. Which grants D'Antoni some grace. 
Still: The last three games, the Lakers have allowed more than 400 points. And with games ahead against the Thunder and Spurs, things may only get worse, before ever starting to get better.
Show Comments
Hide Comments
LeBron and the Cavs are looking for their second straight title

This could be another classic series, and our experts have their picks

There are plenty of MVP candidates to go around in what promises to be an epic series
Paul is eligible to sign for $200 million-plus with the Clippers

Pachulia missed all of the final two Western Conference finals games with a sore right hee...

Iguodala will likely play big minutes guarding LeBron James