Report: Mike Miller visiting Nuggets Sunday
Denver looking at veteran wing as Memphis hits impasse on number of years with longtime franchise player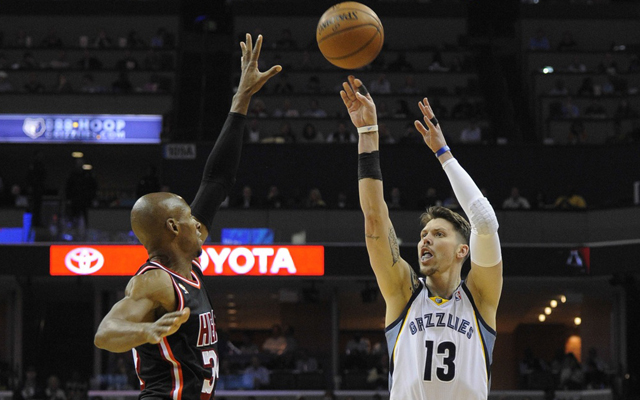 More Offseason Analysis: Updating Free Agency news | Top 40 free agents
ESPN 92.9 in Memphis reports that Grizzlies free agent veteran forward Mike Miller is set to meet with the Denver Nuggets Sunday. Miller has stated publicly he wants to return to the Grizzlies, but the radio outlet reports Memphis is reluctant to provide a longer-term deal for the 34-year-old. 
As he waits out free agency, Grizzlies' free agent Mike Miller will visit the Denver Nuggets Sunday and Monday, a source told 92.9 FM ESPN Saturday morning. 

Oklahoma City, Houston, and Portland are also interested in the veteran shooter's services. 

Denver does have a mid-level exception available, though using it would likely put the Nuggets into the luxury tax. 

The Grizzlies, according to the source, had an initial offer of two years and annual salary between $2.4 and $2.9 million. Though Miller has repeatedly expressed his desire to stay in Memphis, he is also looking for more security in what will likely be his last multi-year deal. 
via 92.9FM ESPN - Miller To Visit Nuggets Sunday.
The Nuggets have been actively pursuing veterans after their young talent struggled last season in terms of both professionalism and on-court approah after a spate of injuries decimated Brian Shaw's rotation. 
Miller's an odd target for Denver, though, with Arron Afflalo, Gary Harris, Randy Foye, Danilo Gallinari, and Wilson Chandler at the wings on the roster, before factoring whether the team keeps non-guaranteed forward Quincy Miller. 
Miller averaged 7.1 points and 2.5 rebounds last year in all 82 games for Memphis, playing in every game after being waived using the amnesty clause by Miami because of durability concerns. Miller wasn't just durable, he had one of his better seasons as of late in terms of overall floor performance. 
If the team doesn't re-sign Miller, rookie Jusef Nurkic stays overseas as expected, and they sign rookie Gary Harris, the Nuggets wold have 13 players on roster. Going into the luxury tax for a team that is only a maybe to make the playoffs seems risky, but management and ownership have a lot of confidence that the only thing holding this roster back last season was injuries and if they avoid a major fluke rash of them, they can make the postseason. 
Meanwhile, Memphis just re-signed Zach Randolph to an extension after he agreed to opt in for next season. They don't have much cap room and picked up rookie Jordan Adams on the wings in the draft. They also have last year's rookie Jamaal Franklin on the perimeter along with Courtney Lee and Tony Allen. But Miller's shooting and veteran presence is needed, and the Grizzlies would do well to keep him, not only for the basketbal aspect but for what it says for the franchise, letting a player who wants to retire with the team after being drafted there finish his career how he wants. 
But with an impasse in place, it seems more and more likely Miller may move on. He's also drawn intereste from the Thunder, among other teams. 
The diminutive All-Star was among the league's worst defenders during the 2016-17 season

We've seen huge favorites before, but this is something else

Buddy Hield and Willy Hernangomez round out the first-team selections
Chris Paul and Patrick Beverley complete the first team

Allen Iverson is someone Tyronn Lue would want on his coaching staff

Guess who is still on the trading block for the Timberwolves