Report: Mike Woodson could replace Tom Crean at Indiana
The 'New York Daily News' reports that if Knicks coach Mike Woodson gets canned, he could get the job with the Indiana Hoosiers.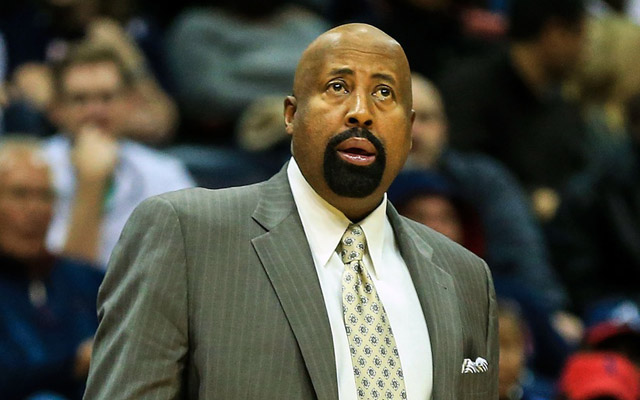 More NBA: Power Rankings | Expert Picks | Latest news, notes
So here's a fun one. A coach who hasn't been fired from his current job could replace another coach who hasn't been fired from his current job. This is what the Hadron Collider has brought us. 
The New York Daily News reports that if Knicks coach Mike Woodson gets canned, he could get the job at Indiana. Not the Pacers, but the Hoosiers, who lost in the first-round of the Big Ten tournament Thursday and could look to replace coach Tom Crean. 
Mike Woodson is a long shot to survive the anticipated purge at MSG. However, he may have a job lined up sooner than later. According to a source, Woodson would be a top candidate at his alma mater, Indiana University, if current coach Tom Crean does not return. The source claims that several prominent IU boosters are pushing to buy out Crean and install Woodson, a product of Indianapolis, as the coach.

Woodson, according to a team source, has been resigned to the fact that this would be his last season with the Knicks even before last Friday, when the Daily News first reported that Madison Square Chairman James Dolan had offered Phil Jackson a front-office job. Jackson has said on numerous occasions that he is no longer interested in coaching.
via If Knicks fire Mike Woodson, he could land coaching gig with Indiana Hoosiers - NY Daily News.
A move to college might be nice for Woodson, who wouldn't have to deal with the politics and palace intrigue of the Knicks. College boosters are crazy, but they're not James Dolan crazy. 
Meanwhile, the Knicks have won five in a row and are just 3.5 games back of the 8th seed in Atlanta, who has a tougher schedule remaining. Woodson defended his performance this year on Wednesday, saying that J.R. Smith's early-season suspension contributed to the tough start and injuries snowbaalled the situation from there. 
He could very well survie this nightmare season. Weirder things have happened. Of course, if he does get fired, it's good to know he could have another job if another coach who hasn't been fired yet also gets fired. 
This business is ridiculous. 
Woodson declined comment except to express support for Crean on Thursday. 
Show Comments
Hide Comments
Our Latest Stories
Noel could miss a significant amount of time after having minor knee surgery

San Antonio will be without its starting shooting guard, who is a strong wing defender

When George Karl first met Rudy Gay, the Kings forward told him "Welcome to basketball hel...
The Cavs want their fans to cheer on the Indians

Love jokes that he "blacked out" while guarding Curry in the closing seconds of Game 7

Sixers coach Brett Brown says Simmons on track to return in less than 3 months