Report: NBA offered to drop fine if Raptors removed Drake's title
Toronto was fined $25,000 after Drake publicly recruited Kevin Durant onstage, and the league is reportedly uncomfortable with the rapper's role.
• 1 min read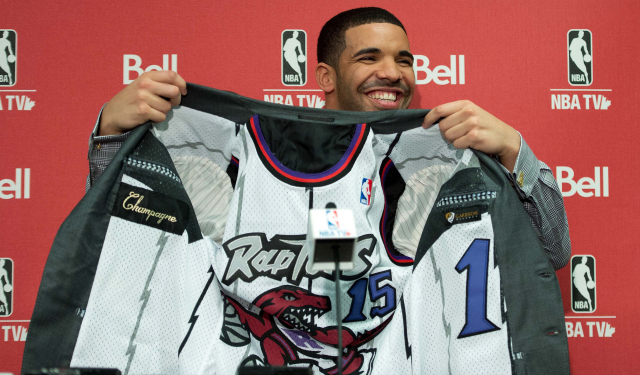 Offseason: Free Agency | Latest from Ken Berger | Rumors
Update: The NBA denies asking Toronto to strip Drake's title:
NBA statement: "As Raptors' Global Ambassador, Drake must follow our anti-tampering rules. At no point did we suggest his title be removed"

— Josh Lewenberg (@JLew1050) August 13, 2014
More from NBA re Drake: "...but we were clear that as long as he acted as a representative of the team, he is subject to the league's rules"

— Josh Lewenberg (@JLew1050) August 13, 2014
---
The NBA fined the Toronto Raptors $25,000 this week because Drake, their unpaid global ambassador, asked the crowd at OVO Fest to let Kevin Durant "see what would happen if he came to play in Toronto." Since Durant is under contract with the Oklahoma City Thunder and Drake is associated with the Raptors, this was considered tampering, despite the fact that the rapper is not a team employee. The Globe and Mail's Cathal Kelly reports that the league is generally uncomfortable with the arrangement, and Toronto could have avoided the fine by ending it:
This has risen beyond the level of a spat. It's an executive knife fight. Raptors officials would not comment on the Drake versus NBA situation. They are plainly loath to make their secret war public.

They also refused to address a key detail – that the NBA offered to drop the tampering fine if the team agreed to strip Drake of his title. The Raptors apparently refused.
First, let's acknowledge how hilarious it is that we're talking about a "Drake versus NBA situation." Second, it would have been silly for the Raptors take away his title, even it would have saved them $25,000. When they announced their partnership with Drake, they said he'd be involved with their rebranding effort and the 2016 All-Star Weekend festivities. Drake Night at the Air Canada Centre was a success last season.
More important than all of that, the fine isn't even such a bad thing for Toronto. It's brought more attention to the city as a potential destination for Durant as his free agency nears. 
Show Comments
Hide Comments
They weren't discussing their favorite movies

The OKC star exits in 4-1 series loss to Houston after one of the most remarkable individual...

How to watch the first-round series between San Antonio and Memphis
The playoffs are getting interesting

The Cavs and Warriors have both swept their first-round opponents

Les Alexander appeared to complain to a referee in the middle of live play