Report: Nets' Andray Blatche approved for Philippine citizenship
Blatche will reportedly play for the Philippines national team this summer.
• 1 min read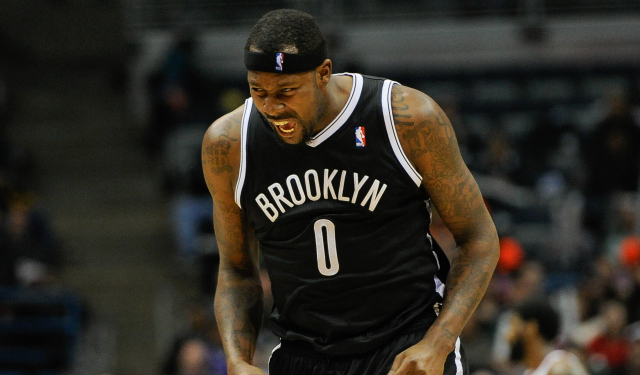 More Offseason Analysis: Coaching changes, news | Free Agency | Draft
Brooklyn Nets big man Andray Blatche was unanimously approved for Philippine citizenship on Monday and will play for the Philippines' national team this summer, according to the Philippine Star:
Committee Report No. 27 on House Bill No. 4084, sponsored by Senator Sonny Angara was approved with 20 affirmative votes, zero negative votes and zero abstention.

"Andray Blatche has openly expressed his desire to play for the Philippines. He is in a position, at age 28, to make significant contributions to Philippine basketball and accordingly, eligible for the conferment of the honor of being a Philippine citizen," Angara said.

…

"Blatche is possibly the best center from the NBA that we can get who is willing to shun more lucrative offers now and in the future just to be part of our national team," stressed Angara, who said that the Brooklyn Nets big man's documents will now be transmitted to the Office of the President for the chief executive's signing.
"Possibly the best center from the NBA that we can get who is willing to shun more lucrative offers." Quite the endorsement. But seriously, Blatche should be a tremendous boost to Gilas Pilipinas on the inside in August's FIBA World Cup. He will immediately become their No. 1 option in the post.
Back in late January, news broke that this was in the works. Blatche claimed to be half-Filipino, via the New York Times' Andrew Keh, to which teammate Joe Johnson said, "He's full of s---," via Newsday's Rod Boone. 
Blatche averaged 11.2 points and 5.3 rebounds per game for Brooklyn this season, and he plans to opt out of the second year of his contract to become a free agent this offseason.
Show Comments
Hide Comments
LeBron had his worst playoff performance in years, scoring just 11 points on 4-13 shooting

Brown might well end up coaching in the NBA Finals against the team that fired him

Smith and his family got great news before Game 4 of the Eastern Conference finals
Kyrie Irving went nuts in Game 4 and capped it off with a nasty highlight

Boston is better on defense without Thomas, but it obviously missed him in the second half...

The Cavs are up 3-1, in part thanks to Irving's astonishing performance.