Report: Nets have interest in Kyle Korver
The Nets reportedly are interested in signing Hawks free-agent sharpshooter Kyle Korver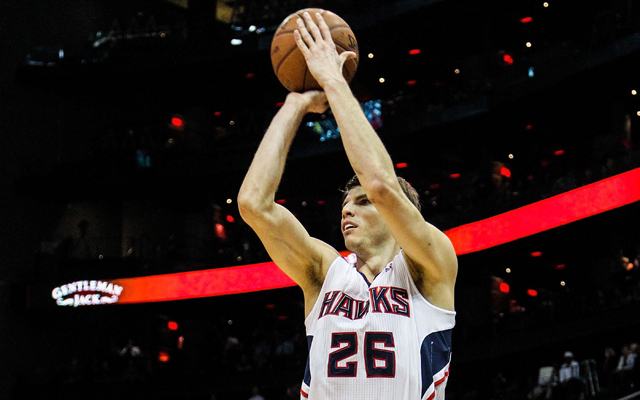 ESPN reports that the Brooklyn Nets could have interest in adding free-agent shooter Kyle Korver as they load up for a championship run. 
Which is interesting, since apparently they believe they can just magically create cap room. 
Korver is set to be one of the best avalable wings and is rated fifth among small forwards on our list of available free agents. The Nets can offer some section of a limited mid-level exception or a minimum contract. Kind of hard to see Korver going for that just to chase a title with a team reliant on a lot of question marks due to age and injury, even with a huge payroll and big names. 
But if Korver did decide to take the paycut to sign up, he'd be a perfect fit, able to spread the floor. His defense was considerably better last season than it has been, and when he gets hot he can take over a game. 
Will Korver sacrifice a huge payday, one of the last of his career, to chase a ring? It's an intriguing option to watch as free agency begins on Monday. 
Show Comments
Hide Comments
Breaking down key matchups as the second season reaches the conference semifinal series

The second round of the 2017 NBA Playoffs tips off Sunday at 1 p.m. ET, with Game 1 of Cel...

The Spurs have homecourt advantage, and will host Game 1 Monday night at 9:30 p.m. ET
All-Star guard flew to Washington after Game 6 vs. Bulls to attend his sister's funeral Sa...

Some love for the Rockets over the Spurs, and at least one expert says the Cavs are going...

Ball is expected to be one of the top picks in the NBA Draft later this summer