Report: No. 25 pick Clint Capela signs with the Houston Rockets
Clint Capela, the 25th pick in the draft, will not spend the season overseas and will reportedly sign with the Houston Rockets right away.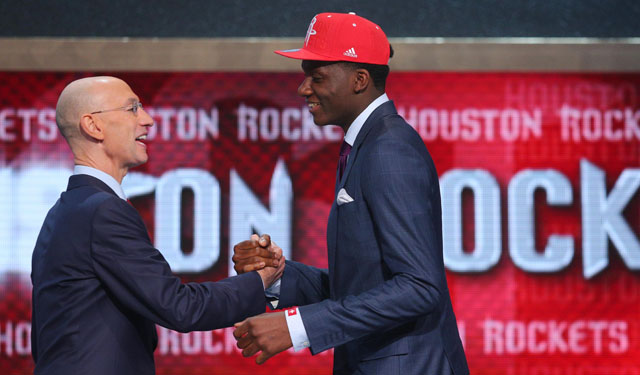 More Offseason Analysis: Coaching changes, news | Free Agency | Draft
The Houston Rockets probably weren't expecting to bring the 25th pick in the draft over this season. When Swiss forward Clint Capela fell to the Rockets, it looked like it was going to be the perfect draft-and-stash option for them. He's an athletic big man with big defensive potential and a very high upside. But he's a bit of a project so the Rockets could get away with keeping him in Europe for a year or two while they maximize their cap space, sign a big free agent, and keep adding to their immediate core.
Unfortunately for Houston, that didn't work out. But it looks like it will result in the team helping Capela with a buyout from his team overseas. This will allow them to bring him over to the Rockets right away and start helping him develop in their system. Marc Spears of Yahoo Sports is reporting the Rockets have signed Capela to his rookie contract.
The Houston Rockets signed rookie forward Clint Capela on Wednesday, a source told Yahoo Sports.
Capela played for Chalon in the French League the last two seasons. The 20-year old big man averaged 9.4 points and 6.9 rebounds in 22.0 minutes in 22 French League games last season. In 10 Eurocup games, Capela averaged 11.2 points and 6.5 rebounds while playing 19.8 minutes. He also made 71.4 percent of his field goals. He's projected to be a big time defensive presence and has drawn comparisons to a young Serge Ibaka by some.
The Rockets will pay $500,000 to Chalon as part of the buyout. Capela will make just under $1 million in his first season with the Rockets.
Big man is returning to Florida, where he played in college, on a one-year minimum deal

Meeting comes amid reports the free-agent point guard has been discussing a one-year deal

Don't even think about it -- LeBron's reportedly not going anywhere
The point guard's unhappiness reportedly helped lead to his eventual trade request

Even Floyd Mayweather weighs in on the war of words between the two stars

The three-team deal would have also shipped Kevin Love to Denver