Report: 'No chance' Knicks trade Carmelo Anthony
The Knicks could change course, but that's not who they are. They want stars, and Melo is theirs.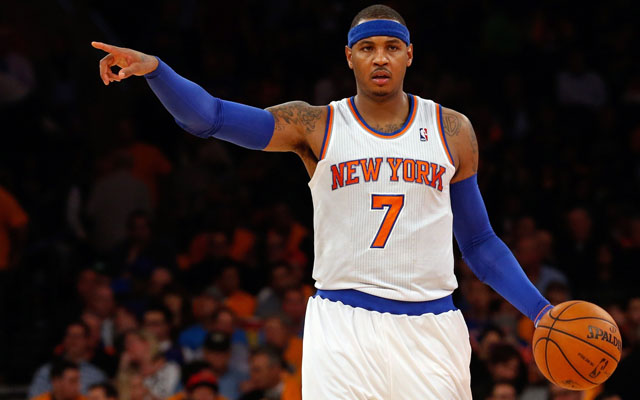 This should come as no surprise since it would be completely outside the context of their M.O. to do otherwise, but Yahoo Sports reports the Knicks will not be trading Carmelo Anthony at the trade deadline next week. 
There is "no chance" the Knicks will deal Carmelo Anthony, who owns a contract opt-out this summer, before the trade deadline, a source said.
via NBA Power Rankings: Heat get back into top 3 as All-Star break nears - Yahoo Sports.
Anthony can opt out this summer. The Knicks are 20-31. Melo will be 30 in May. The Knicks have no picks, only two young players to build around (Iman Shumpert and Tim Hardaway, Jr.) and can't make drastic improvements until next summer. 
But he's still not going anywhere. The Knicks want starpower. New York is supposed to have stars, Melo is a star no matter what you think about his game. He has huge name value, more than Paul George who's a considerably better player at this point (and considerably younger). Anthony can opt out, but he'll take the money. The Knicks can offer him the most money and he's always been someone to take the money first. 
He has control over the organization, his wife is happy there, and he's the biggest name on MSG's marquee making tons of money. Why would he leave? 
Great writers have broken down why the Knicks should make the move, but that would take a front office from the top down who believesin a long-term, sustainable approach. This one wants quick fixes and immediate results. It's a bad way to build a business, a bad way to build a team, but they play in the biggest market and are incredibly popular. They'll make money no matter what. So why not sell out constantly? 
Maybe they'll land a free agent in 2015 and contend. Maybe they'll find a way to get Rajon Rondo who would be perfect for Anthony. Maybe everything will work out. But there's no use wondering about what they should do with Melo. There's just no reason to think they'll do anything but stay with Melo at the helm. It's just what they do. 
Show Comments
Hide Comments
The future Hall of Famer opened up about his post-NBA life

Boston's star guard addressed the media for the first time since his sister's death

What does a first-round sweep mean for PG13's future in Indiana?
Celtics reverse course in Chicago; Pacers head home

Our NBA experts predict the first round of the postseason

Can the Clippers close the series without Blake Griffin?