Report: Noah Vonleh leaning toward declaring for the NBA Draft
Indiana forward Noah Vonleh reportedly has people engaged in dialogue with agents, looking toward the talented stretch four joining the draft.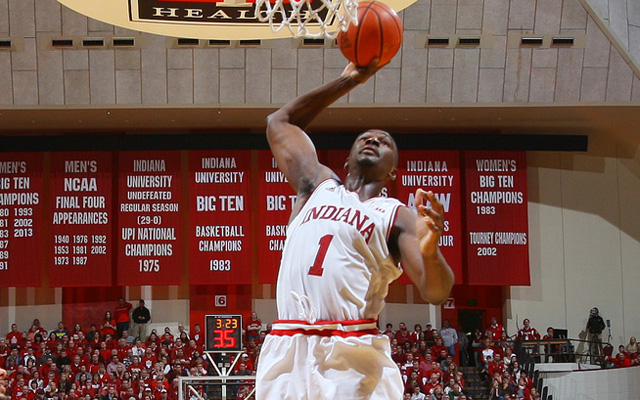 More NBA: Power Rankings | Expert Picks | Latest news, notes
Yahoo Sports reports that Indiana forward Noah Vonleh is "strongly leaning" toward declaring for the NBA Draft. 
Indiana freshman Noah Vonleh is strongly leaning toward entering the NBA draft, sources told Yahoo Sports.

NBA front office executives expect Vonleh, a 6-foot-10 forward, would be selected somewhere between Nos. 7-12 in the draft. Still, there is widespread agreement his potential far exceeds his performance and preparedness for the NBA.

Vonleh's inner circle has been engaged in dialogue with a few prominent NBA agents, especially across the past several weeks of the season, sources told Yahoo Sports. NCAA bylaws allow players, families and associates to talk with agents and still preserve their amateur eligibility.

Team executives and agents are under the impression that Vonleh, who had an inflammation in his left foot, sat out two games late in Indiana's regular season largely out of concern for his draft status.
via Indiana freshman Noah Vonleh leaning toward declaring for NBA draft - Yahoo Sports.
Vonleh's Hoosiers lost in the first round of the Big Ten tournament to Illinois. He averaged 11 points and nine rebounds per game this season, shooting 52 percent from the field. 
Vonleh's biggest assets are his size and length at 6-8 with a 7-4 wingspan, and his ability to stretch the floor. He shot 49 percent from three this season. His potential as a stretch four with reboulding ability is high. 
Yahoo reports there is belief that Vonleh may spend time in the D-League next season, but that will be determined by what team drafts him. Many teams haven't been willing to invest the money in a D-League team to control their basketball operations, and may prefer to simply bury him. 
But long-term, there's a reason Vonleh is going to go in the top 10. The talent is through the roof. Don't be surprised if he goes as high as five, though picks seven through 10  are more likely. 
Show Comments
Hide Comments
The Raptors do enough to get past the Bucks in the opening round of the playoffs

San Antonio ousts Memphis in their first-round series in six games

And Grizzlies coach David Fizdale didn't exactly disagree
Toronto survives, but struggles to do so

San Antonio will face the Houston Rockets in the second round

The 40-year-old is coming up big in the playoffs