Report: OKC's Russell Westbrook could return within two weeks
Russell Westbrook is reportedly ahead of schedule and could return to the floor within two weeks.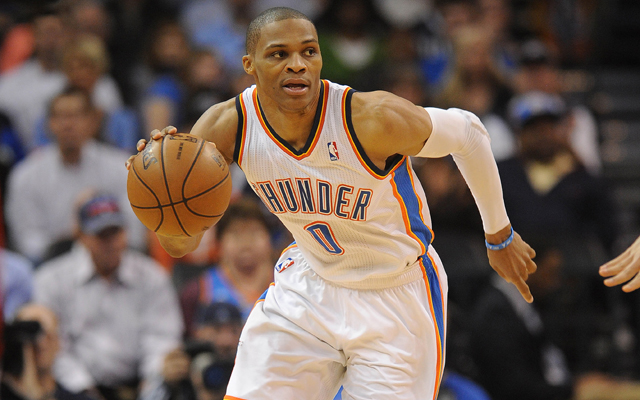 The Thunder could be getting an early Christmas present. 
According to Yahoo Sports, Russell Westbrook could return to the Thunder within the next two weeks, putting him ahead of schedule following arthroscopic surgery. 
Westbrook had an original timetable of 4-6 weeks starting from the beginning of the regular season, but has been progressing well and recently returned to the practice floor, at least partially. 
Backcourt mate Reggie Jackson said recently Westbrook has looked as explosive as ever, and hasn't shown any lingering effects from his meniscus surgery last April.
"Oh, man. Russell today..." Jackson said last week. "It's actually funny. My brother and his brother talk a little before games. His brother told mine that Russell's probably bouncing better than ever. I had to see it to believe it. One of the dunks (today), he went up and looked like the old Russell, plus some, head at the rim. We'll be happy when he gets back fully healthy, but it's good to see him with a smile on his face, being about the team, bouncing back and happy to be back on the court."
Westbrook, 24, averaged 23.2 points, 7.4 assists and 5.2 rebounds last season.
Griffin and the Clippers are at a crossroads

"He left because he wanted to be with James Harden," the Los Anegels coach said

The Warriors have shown that simply putting talent together isn't enough
Hayward will be in Miami this weekend, while Utah and Boston also have meetings scheduled

Sacramento signs Serbian to 3-year, $36 million contract while passing on Ben McLemore

Free agency is around the corner, which means there could be a ton of significant moves coming...