Report: Omer Asik wants a trade, Rockets don't want to trade him
Houston Rockets center Omer Asik has reportedly asked for a trade since Dwight Howard signed to be on his team. Rockets don't want to trade him.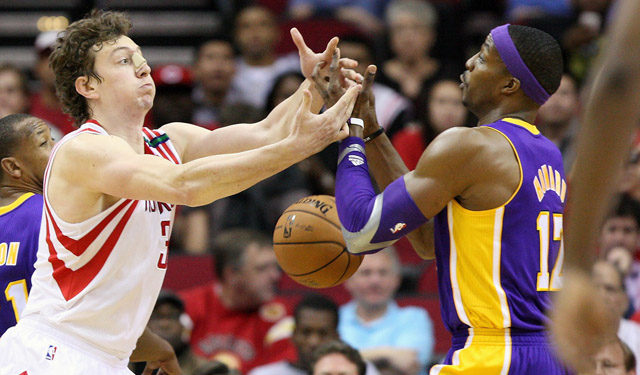 The Houston Rockets came out big-time winners in the 2013 NBA free agency dealings when they were able to convince Dwight Howard to leave the Los Angeles Lakers and join the Rockets. With Howard joining James Harden on a young Rockets team that now has hopes for title contention, there are a lot of reasons for the Rockets team to feel good about their spot in the NBA landscape.
One member of the Rockets that reportedly isn't thrilled is center Omer Asik. According to Brian Windhorst of ESPN.com, Asik has formally asked for a trade from Houston so he doesn't have to share the center position with Howard or be relegated to backup duty because of Howard's spot on the team. However, Houston isn't interested in sending Asik anywhere right now.
Houston Rockets center Omer Asik has formally asked the team to trade him in the wake of the team landing Dwight Howard in free agency. But the Rockets have no plans to grant Asik's wish, sources told ESPN.com.

While many Rockets players rejoiced at landing Howard last week and spread cheer on their Twitter accounts, Asik had a different reaction.

Shortly after Howard announced his decision, Asik was in contact with the team and asked to be moved. The Rockets, however, have turned away offers thus far and will continue to do so, sources said.
Asik signed with the Houston Rockets during the 2012 offseason by agreeing to a three-year, $25 million deal as a restricted free agent. He left the Chicago Bulls to finally be a starter on his new team. In his first season with the Rockets, Asik averaged 10.1 points and 11.7 rebounds in 30.0 minutes. He started all 82 games for Houston during the 2012-13 season.
The Rockets could very well be interested in moving him, but you don't increase someone's trade value by saying you want to trade him. You have to make it look like you need him pried from your hands before you're willing to let them go. That could be what's going on with the Rockets and Asik. 
Neither player is a complementary player to the other if played on the court at the same time. Asik is a very limited offensive center who needs to be around the basket most of the time on offense. While Howard isn't quite as limited as Asik is, he still needs to be around the rim to be he most effective. Playing them together seems like a strategic problem for the Rockets, and having a backup center who makes $8 million each season is not how you want to spread your salary dollars around.
Moving Asik to a team in need of a defensive center could bring them back some depth, preferably in the backcourt. But Houston is in no rush right now to just give away such a talented defensive player and rebounder.
Show Comments
Hide Comments
The Wizards hold a 2-1 series lead

Toronto can take a 3-2 series lead on Monday night at home

How to watch Cleveland and Indiana in their first-round series
The Warriors continue to roll without Durant

The playoffs are starting to heat up

Houston has a 2-1 lead. Here's how to watch the rest of the series