Report: Orlando Magic to waive Hedo Turkoglu
The Orlando Magic will reportedly waive Hedo Turkoglu on Friday.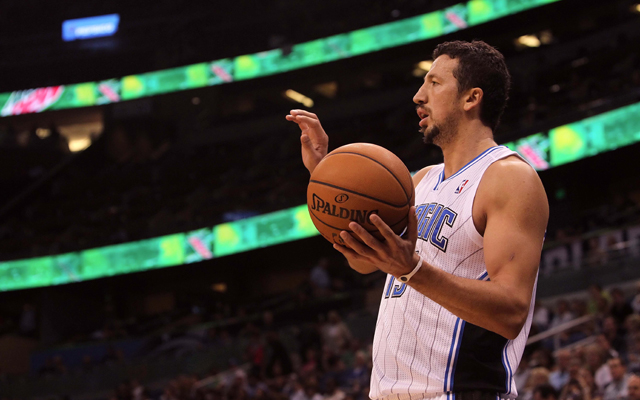 The Orlando Magic couldn't get any takers on Hedo Turkoglu's non fully guaranteed contract this season. With a $12 million price tag, only $6 million of that contract was guaranteed this year, possibly offering a team some luxury tax savings had they acquired him and promptly waived him to save the money. That didn't happen and now it looks like the Magic are finally prepared to part ways with Turkoglu.
The Magic will reportedly waive Turkoglu on Friday, removing him from the roster and giving him a chance to sign with another team for the rest of the season.
#Magic will waive SF Hedo Turkoglu today at 5 p.m.

— John Denton (@JohnDenton555) January 3, 2014
Turkoglu hasn't played this season. The team and Turkoglu worked on a buyout in the offseason and the team reportedly tried to move him at various points but the market simply wasn't there for acquiring his cap number. He only played in 11 games in 2012-13 and shot just 26.4 percent from the field while averaging 2.9 points in 17.6 minutes. Considering he'd only cost his next team the league minimum this season at a prorated number, there could be teams looking to grab him for the stretch run.
Hidayet Türko?lu won't listen any offers from Europe. He wants to stay in the NBA. Lakers and Hawks are interested.

— Ismail Senol (@ismailsenol) January 3, 2014
Turkoglu going to the Lakers could help them if he's capable of playing like he did a few seasons ago. He can be a point forward type of weapon for a team when healthy and productive, and the Lakers are running out of players who can handle the ball right now. The Hawks just lost Al Horford for the season and could use another forward on the roster.
Show Comments
Hide Comments
Our Latest Stories
The second-year Suns guard got a lot of love on social media

Second-year guard's franchise record includes 51 in the second half, 28 in the fourth quar...

Former Laker greats, including Kobe Bryant, speak at ceremony
Who faces who, who's in, who's out, and what happens next?

Spurs assistant is well-positioned to be the first female NBA head coach

Big Baby has spoken, and he wants Allen at the get-together this summer