Report: Pacers expect Granger return as early as Wednesday
Indiana Pacers forward Danny Granger has missed the entire season, but could be back in action soon.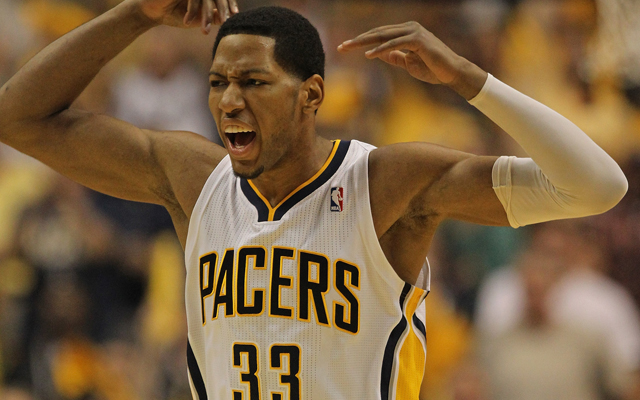 Get happy, Danny! You'll be back soon!
(Getty Images)
For the first few weeks of the 2012-13 season, the Indiana Pacers were trying to figure out life without small forward Danny Granger. After playing in just two preseason games, Granger's left knee soreness had him projected to miss about three months of the regular season, if not longer. 
He's been the focus of their offense since the 2007-08 season and the Pacers struggled to figure out how to adjust to his absence. The Pacers began the season just 10-11, unable to bring about the type of play that catapulted them to a .636 winning percentage last season and the  No. 3 seed in the Eastern Conference. However, since that rough start, the Pacers have found consistency and turned their season around.
The Pacers have gone 21-9 in their last 30 games. The good news is they could be getting even better soon with the return of Granger. Via IndyStar.com:
The Pacers may get their fifth starter from last season -- Danny Granger -- back as early as Wednesday against the Charlotte Bobcats.

Granger, out all season with a left knee injury, went through his first full-court practice Sunday.

The Pacers must decide if it's important for Granger to play before the All-Star break next weekend or wait until Feb. 20 against the New York Knicks.
The question is: When Granger comes back will he disrupt the flow Indiana has now or will he be able to slide in next to Paul George?
George has emerged in Granger's absence so far this season. He's averaging 17.8 points (leading the team), 7.8 rebounds (second on the team), 3.9 assists (second on the team), and 1.8 steals (leading the team). George is also the team's best 3-point shooter at 39.1 percent on his 289 attempts.
David West has also been a big focus of the offense for the Pacers in Granger's absence. He takes the second most shot attempts per game on the team and is the second leading scorer. Figuring out where they fit next to Granger or where Granger fits next to them could be a bit tricky, but it brings some incredible length, defense and offense to their starting lineup.
The Pacers have the NBA's best defense, giving up just 96.2 points per 100 possessions. However, their offense has been pretty bad this season. They're 24th in the NBA in offensive efficiency. Indiana was ninth in the NBA in offensive efficiency last season, 3.5 points per 100 possessions better than it is this season.
Show Comments
Hide Comments
Our Latest Stories
Projections, expectations, schedule analysis and more for the race to 16 squads.

Where they go from here will be interesting

The Knicks have the 25th-ranked defense in the NBA
He said that it's 'on me to sort of ensure that it happens sooner rather than later'

That would mean he misses 12 games next season

I guess it's his job to support his players